Nurbol Come To China For Uremia Treatment
2016-04-21 05:36
Name: Nurbol
Gender: Male
Age: 44
Country: Kazakhstan
Diagnose: Uremia
Patient Word: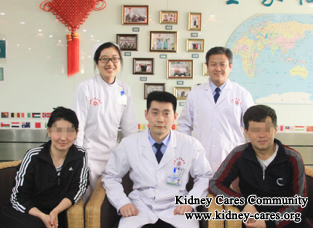 Nurbol from Kazakhstan takes treatment for his kidney disease in his local hospital but his disease develops to uremia stage rapidly from inflammatory reaction period in just seven months. This is unacceptable for 44-year-old Nurbol.
However, what is the next treatment? He comes up to an idea: The world is so big and he should go abroad for treatment. Thus, he comes to Shi Jiazhuang Kidney Disease Hospital in China for treatment.
His serum creatinine level amounts to 937umol/L and urea nitrogen is 28.6mmol/L. His disease is in uremia stage.
Dr Yang is his personal doctor and tells him why his disease becomes worse and worse.
Blood pollution will lead to kidney cell necrosis. Then renal hypertension, urine protein and swelling and other symptoms will occur. Prior treatment only focuses on symptoms but does not treat kidney cell necrosis and blood pollution so his disease will become worse and worse.
His kidney function is damaged severely, 24 hour urinary protein quantity is 5.46g. Nurbol also suffers from renal anemia.
Doctor Yang makes treatment plan for him. Nurbol begins to take Chinese medicine treatment such as oral traditional Chinese medicine, hot compress therapy and foot bath therapy. He has never heard of them before. At the beginning, he is just curious about them. Later on, he is shocked by the effect of Chinese medicine. His hands and feet become warm, his dizziness disappears and he can sleep well at night. Creatinine level and urea nitrogen level both decline. If he continues treatment, he can return back to his previous life because his kidneys have no obvious shrinkage.
As for kidney disease patients, since the world is so big, they should go out for correct treatment for kidney disease.