How To Treat Nephrotic Syndrome If Steroid Does Not Work
2016-04-21 05:42
Name: Zhang Lifang
Gender: Female
Age: 28
Country: China
Diagnose: Primary Nephrotic Syndrome
Patient Word:
Most Nephrotic Syndrome (NS) think steroid is the only way to eliminate urine protein. But if steroid does not work, what can we do?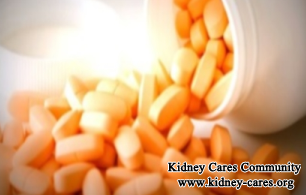 The reports of Zhang Lifang show there is urine protein 3+, urine occult blood 3+, plasma albumin 26g/L and 24-hour urinary protein quantity 6.03g. She was diagnosed with primary Nephrotic Syndrome. The doctor prescribes Prednisone Acetate Tablets, Omeprazole, Okra Capsule and Calcitriol to treat her disease.
This is the most common therapy for nephrotic syndrome. It is a pity that this therapy does not do much help for her disease. After more follow-up visits, 24-hour urinary protein quality is still 2.5-6.1g. Her local doctor recommended her to take renal biopsy but Zhang rejected it.
Zhang comes to our hospital-Shi Jiazhuang Kidney Disease Hospital and her urine protein quantity is 2.96g. With one year of steroid treatment, there is no satisfactory result for her disease.
Steroid can not even treat nephrotic syndrome. Is there alternative way to treat it?
Of course, there is a therapy to treat it as long as you treat disease from the root.
How does kidney disease occur? A large amount of immune complexes exist in blood and these immune complexes will deposit in kidneys. This will cause inflammatory reaction or cell proliferation. Kidney disease in this condition presents.
Steroids are able to inhibit immune inflammatory reaction and block protein from leaking into urine. Omeprazole treats ulceration and has anti-inflammatory reaction. Calcitriol can improve the absorption of calcium and prevent renal bone disease to some extent. Okra capule is a common Chinese medicine to regulate your body.
The above medications all focus on symptoms associated with kidney disease. But immune complexes depositing in kidneys does not get removed.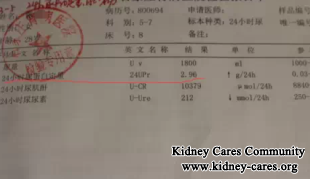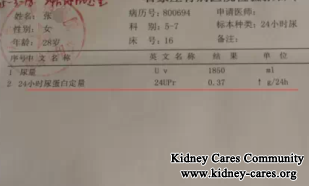 In our hospital, we use Chinese medicine treatment such as steaming therapy, foot bath therapy, medicated bath, circle therapy and enema therapy, etc to cleanse toxins in blood. Less than two weeks, 24 hours urine protein quantity decreases to 0.37g from 2.96g. She can leave the hospital safely.