Correct Treatment For Membranous Nephropathy
2016-04-21 05:32
Name: Marina
Gender: Female
Age: 41
Country: China
Diagnose: Membranous Nephropathy
Patient Word:
In 2013, Marina finds her legs have swelling. After a rest, the swelling will be alleviated so Marina does not pay attention to it. In October 2013, her swelling appears again. Under the persuasion of her family member, she goes to the hospital.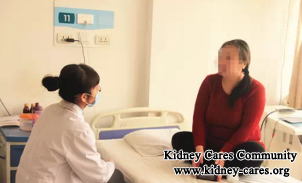 The reports show protein in urine 3+, occult blood +, 24 hour urinary protein quantity 5.56 gram and plasma-albumin 25.9g/L. She was diagnosed with primary nephritic syndrome and Membranous Nephropathy. She was prescribed for Tripterygium Glycosides, Okra, Corbrin Capsule and Benaaepril Hydrochleride Tablets. But there is no improvement of her condition.
Why the medications she takes do not work for her medical conditions?
Tripterygium Glycosides reduce the production of immune complexes by inhibiting immune inflammatory reaction so as to decrease damages on kidneys. Tripterygium wilfordii also has function of blocking protein like glucocorticoid.
Okra and Corbrin Capsule are common Chinese patent medicines for kidney disease treatment. The function of these two medications is to improve immunity. Because patients' immunity has already decreased and steroids inhibit the immunity, patients' physical condition become weak and they are easy to catch cold. This will worsen kidney disease. Therefore, immunity needs to be improved.
Benaaepril Hydrochleride is used to control blood pressure.
The above medications only cure the symptoms. But immune complexes depositing in kidneys do not be removed. In this condition, disease will be sometimes good and sometimes bad.
What is the correct treatment for nephrotic syndrome?
As for kidney disease, it is very important to inhibiting urine protein and occult blood. However, the most important is to cleanse toxic and harmful substances depositing in blood and kidneys. Only in this way can kidney function be recovered and kidney disease be treated.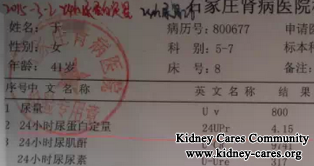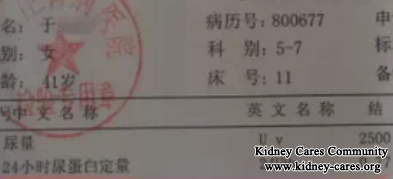 Toxic and harmful substances in blood and kidneys will cause renal cell die and lead to decreased kidney function. In this condition, patients will suffer from proteinuria and urine occult blood. In severe case, serum creatinine level will rise.
Treating these symptoms is not enough. The treatment should remove toxic and harmful substances in blood and kidneys.
After 20 days of treatment, urine protein quantity becomes 0.77g from 4.15g, which is achieved by cleansing toxins in blood.
As long as you choose correct treatment, there will be a pay to return.