Alfiya Come To China For Uremia Treatment
2016-04-21 05:33
Name: Alfiya
Gender: Female
Age: 45
Country: Novosibirsk, Russia
Diagnose: Uremia
Patient Word:
Alfiya comes from Novosibirsk, Russia and she is a patient with chronic nephritis and uremia. In her local hospital, she also accepts treatment but gradually her disease develops to uremia. Why did that happen? Let's see her treatment experience.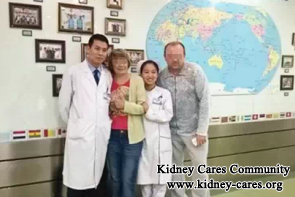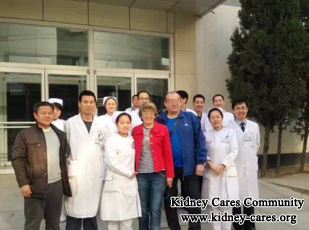 Her first treatment
In 2010, Alfiya found that her legs have swelling and she also experiences headache, dizziness, chest distress and short of breath. The report in her local hospital shows blood pressure 200/120mmHg, urine protein 3+, urine occult blood 2+ and serum creatinine level 180umol/L. She was diagnosed with chronic kidney disease (CKD) so her doctor prescribes moxonidine, methytdopa tablets and losartan potassium and hydrochlorothiazide tablets. These medicines are all hypotensive medications. That is to say, her local doctor wants to use hypotensive medications to treat kidney disease. At this time, Alfiya's disease just progresses to chronic renal failure in-compensation stage.
Her second treatment
Alfiya adheres to medications but lower extremities continue to occur. Her serum creatinine increases to 250umol/L from 180umol/L.
In 2012, her symptoms are worsened so she accepts treatment again. At this time, her blood pressure elevates to 220/120mmHg, hemoglobin reduces to 98g/L, protein in urine is 3+, serum creatinine level elevates to 400umol/L. Her disease is in kidney failure stage associated with malignant hypertension and renal anemia.
Expect for the above hypotensive medications, her doctor gives her levamlodipine besylate tablets and recombinant human erythropoietin injection. The former also focuses on lowering blood pressure and the latter is used to alleviate anemia.
Her third treatment
In 2014, her blood pressure is 230/110mmHg, serum creatinine is 800umol/L. Except for the above medications, She begins dialysis three times in a week. That is, her doctor begins to treat kidney failure. But at this time her disease has entered into uremia stage.
Correct treatment for uremia in China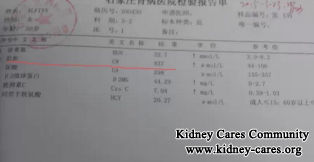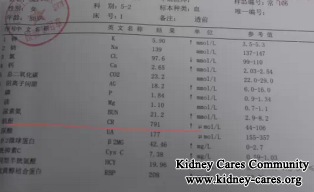 The reason of kidney disease is since there are many toxins in blood, this will lead to supercharge of kidneys. These toxins will deposit in kidney, causing renal cells' hyperplasia and necrosis. Kidney disease occurs.
Therefore, the treatment for kidney failure should start from cleansing toxins. Toxins in blood and kidneys should both be removed.
Alfiya stays in our hospital for 21 days and we use Cleansing Blood Toxins Therapy to help her discharge toxins from her body.
Dialysis is not the only way for reducing high serum creatinine level. Chinese medicines can also bring high creatinine level down. Alfiya returns home from abroad happily.