Chinese Medicine Can Improve Your Body's Microcirculation
2016-04-21 05:34
Name: Liang Yunchuan
Gender: Male
Age: 53
Country: China
Diagnose: CKD
Patient Word:
Liang Yunchuan's condition is stable. In the morning, the patient says he has dizziness so the nurse measures his blood pressure 170/120mmHg. He is given Nifedipine tablets 10mg to lower his blood pressure. After some time, Liang's dizziness disappears and his blood pressure is 160/110mmHg. The dosage of Chinese medicine is unchangeable.
In the morning, Dr Liu Yunming goes the rounds of wards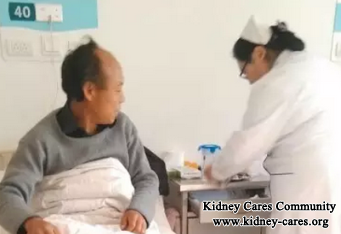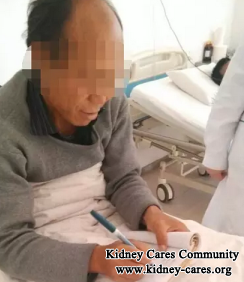 Liang Yunchuan's spirit, appetite and sleep are good. His blood pressure is 170/120mmHg. He has no swelling in his eyelids and lower limbs.
After the ward rounds, Dr Liu says that:
1. Patient has a high level of blood pressure so his medication dosage needs to have some changes. Metoprolol tartrate tablets 12.5mg twice a day is changed to 25mg three times a day. He stops taking levamlodipine besylate tablets 2.5mg twice a day while he begins to take Nifedipine delayed-released tablet II 40mg twice a day.
2. Mai Kang mixture 40ml three times a day is changed to 80ml three times a day.
3. 5% glucose injection 250ml, salvia miltiorrhiza rhizoma ligustici wallichii injection 10ml is given to promote blood circulation to remove blood stasis.
4. Since patient has a poor sleep quality, estazolam tablet 1mg is given to help his sleep.
5. Patient suffers from acidosis so 5% sodium bicarbonate injection is given to correct acidosis.
The changes of medication have three purposes:
Chinese medicines are used continuously to improve microcirculation, especially microcirculation in kidneys. This lays a foundation for controlling renal hypertention and also recovering kidney function.
Keep the balance of acid-base
Control blood pressure further