A CKD Patient Come To Our Hospital For Effective Treatment
2016-04-21 03:58
Name: Liang Fenfang
Gender: Female
Age: 35
Country: China
Diagnose: Chronic Kidney Disease (CKD)
Patient Word: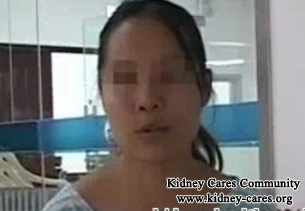 Liang Fenfang is from Chongqing and was diagnosed with chronic kidney disease (CKD). In her local hospital, she only takes some medicines to control her symptoms. But after some time her disease is prone to relapse. Thus, she comes to our hospital for effective treatment.
Her condition is serious. Her occult blood is 3+ and urine protein is 1+. Doctors in Shi Jiazhuang Kidney Disease Hospital apply Micro-Chinese Medicine Osmotherapy for alleviating her symptoms. After a period of treatment, she felt good and her back pain is not so severe. Her occult blood and urine protein become normal. Her family members are happy to see this condition and surprised by the therapeutic effect of Micro-Chinese Medicine Osmotherapy.
With the better therapeutic effect, many patients including foreigners take Micro-Chinese Medicine Osmotherapy. How does Micro-Chinese Medicine Osmotherapy help CKD patients? This therapy is an external application and patients need to lie on the bed to take this treatment. Two medicated bags are put on patients' lower back-the kidney area. With the help of osmosis device, the active ingredients can come to kidney lesions directly and then have the functions of dilating blood vessels, promoting blood circulation and removing obstruction in channels. It helps alleviate renal ischemia and anoxia state. With the improved kidney function, symptoms will be alleviated and you will feel better.
Email to kidneycares@hotmail.com or leave a message below, we are glad to offer you professional suggestion for free.