How To Treat Diabetes Effectively
2016-04-21 02:28
Name: Santos
Gender: Female
Age: 53
Country: America
Diagnose: Diabetes
Patient Word: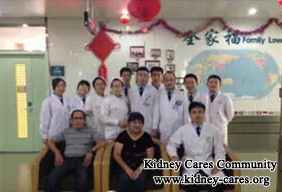 Diabetes is considered as a difficult problem throughout the world. It is not because many people have this disease but it is because it is very difficult to control blood sugar. If blood sugar cannot be controlled well, it will do great damages on body systems. Any kind of complication of diabetes will develop to serious disease. Therefore, controlling blood sugar is a medical problem urgently to be solved.
Santos is from America and suffers from diabetes for 20 years. At the beginning, she always takes medications to lower her blood sugar. Later she takes combined medications for blood sugar. 18 years ago, she stopped taking blood sugar medications and began to take insulin subcutaneous infusion. Although treatment plan is constantly adjusted, blood sugar cannot be controlled well. At this condition, she has a series of medical problems. For example, 15 years ago, she was diagnosed with coronary heart disease. 5 years ago, she was diagnosed with cataract and 4 years ago she was diagnosed with diabetic nephropathy and kidney dysfunction.
The most intuitive feelings are numb hands and feet cold. She seldom sweats. Under the accompany of her husband, she comes to china to accept treatment.
Diabetes will lead to vascular silt due to blood viscosity, so feet disease, eye disease and kidney disease are all caused by this reason. The doctor focuses on controlling blood sugar levels.
As long as blood sugar gets well controlled, other symptoms will be alleviated naturally.
After a period of treatment, feet and hands become warm, itchy skin gets disappeared and Santos begins to sweat. Soon she is allowed to leave the hospital.
This is a successful case of treating diabetic complication. No matter which complication you have, you should always focus on controlling blood sugar.