Chinese Medicine Help You Beat Uremia
2014-10-02 07:18
Name: Eric
Gender: Male
Age:
Country: Ivory Coast

Diagnose: Uremia

Patient Word: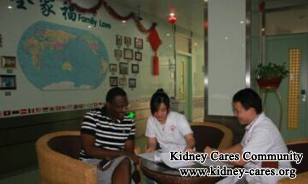 Eric is a lawyer in Ivory Coast. He has a stable work and lives a happy life. However, misfortune happens on him in 2007. He was diagnosed with uremia.
One day in 2007, he found his limb edema and went to hospital to take check ups. The reports shows that urine protein is 1 plus, occult blood 2 plus. The doctors do not give any medications to him and only tell him to follow a low protein diet. After some days, swelling disappear and Eric does not pay attention to it.
In 2011, Eric began to have dizziness and nausea as well as other symptoms. At this time, serum creatinine elevates to 232umol/L and he was diagnosed with chronic renal failure, renal hypertension. Dialysis is done. However, after dialysis, Eric feels discomfort badly and has less urine. To take further treatment, he came to Shi Jiazhuang Kidney Disease Hospital.
In our hospital, Chinese medicine was used to treat his kidney disease. His creatinine level amounted to 1692umol/L on his lab report. At the beginning of Chinese medicine treatment including oral taking medicine, Mai Kang Mixture and other Chinese medicines, he had some discomforts and he felt embarrassed when his belly often sounded grunt grunt. The doctor told him that it is a digestive problem. With Chinese medicine application, vomiting, nausea disappeared and meanwhile grunt of belly was also gone.
After a period of treatment, dry skin got smooth, body weight decreased, nausea and vomiting are also alleviated. Creatinine and urea nitrogen decreased obviously. The magic of Chinese Medicine convinced him totally. He was very happy about Chinese Medicine treatment in China.