Outstanding Effects Of Systematic Herbal Medicines On Damaged Kidneys
2016-04-21 02:36
Name: Kalidhasan
Gender: Male
Age: 54
Country: India
Diagnose: Chronic Kidney Disease
Patient Word: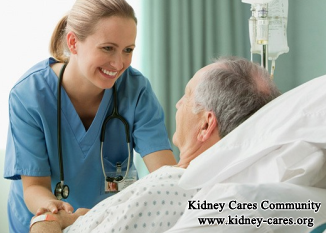 Kalidhasan has high creatinine level of 5.5mg/dL, glomerular filtration rate (GFR) 9ml/min, glucose 147 and hemoglobin 7.5 as well as 51mg/dl. In this case, is your systematic Micro-Chinese Medicine Osmotherapy curable for his condition?
He was admitted in our hospital and applied our systematic herbal medicines. After a period of treatment, he got great recovery with the therapeutic effects of herbal medicines. The herbal medicines can achieve the following effects:
1. Detoxification
We adopt treatments like Medicated Bath. This therapy works on ingredients exchange through skin. Toxins including creatinine and blood urea nitrogen get discharged out and medical ingredients get into blood capillaries through skin. In general, creatinine can reduce around 30% with medicated bath. Other therapies include medicated enema, which is also a detoxification therapy, using colon as exchanging places of ingredients.
2. Blood circulation promotion
Acupuncture and moxibustion works on adjusting whole body blood circulation, because kidney filtration rate decline is related to insufficient blood supply to kidneys. In general, kidneys secrete renin to increase body pressure, in order to press more blood to kidneys.
3. Oral taken herbal medicine is limited from 30ml to 60ml per day, aiming at adjusting appetite and replenishing nutrients.
4. The basic treatment of osmosis is the basic one that is applied externally on lower back shenhu acupoints. This is a remedy which works for repairing kidney damage, and degrading out these redundant extracellular matrix.
5. During a thorough treatment, inflammatory factors in blood are cleaned out, and overall toxin level are declined. Protein in urine can be reduced. And kidney damage can be repaired.
The outstanding effects of systematic herbal medicines works on restoring injured kidneys. Also his kidney function can be improved by a large margin. This contributes to his overall health conditions.