Lupus Nephritis, GFR Improved And Creatinine Reduced
2014-01-14 16:05
Name: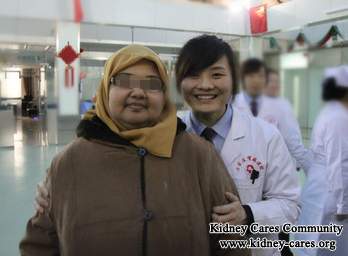 Mrs. Arroyo
Gender: Female
Age: 32
Country: Indonesia
Diagnose: lupus nephritis, SLE
Patient Word: I appreciate all people here. I feel amazed at my treatment outcome. Micro-Chinese Medicines Osmotherapy is a natural treatment so you need not worry about any side effects.
Condition before treatment
Back in 2010,Mrs.Arroyo was went to see a doctor for red spots in her face. At that time, she was diagnosed with Lupus Nephritis. After a period of hospitalization in the local hospital, her condition came into remission and all symptoms were gone. However, a mild cold triggered the relapse of lupus nephritis and ruined all the treatment result. This time, more serious proteinuria and high blood pressure occured. However, there is no an effective treatment that she counted on. She searched the Internet and wished to find an effective treatment from other countries. So she decided to come to China for treatment.
Treatment: Micro-Chinese Medicines Osmotherapy, 3 times/day, 45min each time; plasma exchange, 2 cycles
Condition after treatment
The patient lived with severe headache and nearly could walk. She had to stay in bed all day long because of serious joint pain. Her kidneys had been impaired significantly by SLE and there was a large amount of protein in urine. What's worse, she suffered serious weight loss due to poor appetite.
Based on her illness condition, plasma was recommended. It could remove the immune complexes and antibodies from blood. Only after one cycle of treatment, she had an obvious improvement. She could eat more and the protein in urine also redueced.
Micro-Chinese Medicines Osmotherapy could dilate blood vessels and restore the impaired tiny blood vessels in kidneys.After two cycles of plasma exchange and a period of Micro-Chinese Medicine Osmotherapy treatment, her creatinine level came to normal and GFR were improved enormously.