Is There Any Treatment for Swelling In Nephrotic Syndrome
2018-02-02 05:40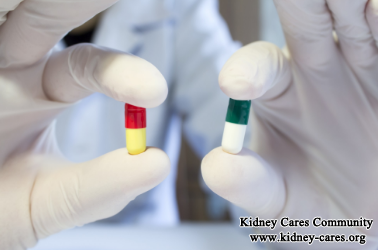 Nephrotic Syndrome causes swelling, particularly in your feet and ankles, and increases your risk of other health problems. Well then, is there any treatment for swelling in Nephrotic Syndrome?
The common medicine for nephrotic syndrome is prednisone.
What does prednisone do?
Prednisone is a type of steroids, which is used to stop the loss of protein from the blood. After one to four weeks of treatment, you begin urinating more often. As you release more urine, the swelling will go away. Prednisone can be an effective drug, but it has a number of side effects. Some of these side effects include increased hunger, weight gain, acne, mood swings, a slowed growth rate and higher risk of infection. Besides, most patients complain the frequent relapse. Prednisone only treats symptoms. Due to side effects and frequent relapse of steroids, nephrotic syndrome patients want to look for other ways.
Is there any alternative treatment for Nephrotic Syndrome?
Yes, in China, our hospital-Beijing Tongshantang Hospital of Traditional Chinese Medicine has systematic Chinese medicine treatments including Hot Compress Therapy, Medicated Bath, Medicated Foot Bath, Mai Kang Mixture, Medicinal Soup, Mai Kang Mixture, Moxibustion Therapy, Steaming Therapy, Enema Therapy and Acupuncture, etc. We find the root cause of kidney disease. It is the excess substances building up in your body. Excess substance is toxic and then causes kidney damage. The key point of our treatments is to first purify your blood. Chinese medicines can discharge excess wastes and toxins from your body via urine, bowel movement and sweating. This can give you a clean blood environment. Then Chinese medicines can arrive at kidney lesion directly to repair injured kidney tissues and improve renal function through dilating blood vessels, improving blood circulation, preventing inflammation and coagulation, degrading extracellular matrix and providing nutrients. In this way, swelling can be treated from the root.
Chinese medicine treatments can treat swelling in Nephrotic Syndrome without relapse. If you want to know more information, you can leave a message below or consult our online doctor directly. We will reply you as soon as possible.
Our Treatment Effect
Swelling is an obvious sign of Nephrotic Syndrome
Move the mouse to enlarge the picture
Look, this patient has severe leg swelling which has made her feel pain and can not get out of the bed. In order to seek better treatment, she came to our hospital for Chinese medicine treatments. 30kg of fluid was removed from her body in less than a month. Her leg swelling disappeared completely. Now you can see her long legs again.
Proteinuria can also be seen in kidney patients
Move the mouse to enlarge the picture
Look, this patient has severe proteinuria when he just came to our hospital. With our Chinese medicine treatments, his condition was better and better. Bubbles in urine gradually reduced and finally disappeared in 10 days of treatment.
New Zealand Patient Second Visit to Our Hospital for TCM
Nephrotic Syndrome Illness Analysis