Blood Clots Can Threaten Nephrotic Syndrome Patients' Lives
2017-07-06 09:44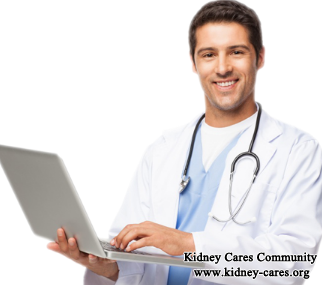 Thromboembolic complication is one of the severe complications from Nephrotic Syndrome, Nephrotic Syndrome patients are easy to suffer from thrombus of lower extremity veins and renal venous thrombosis. In severe condition, pulmonary embolism and cerebral embolism can occur, which can threaten your life.
Two causes can lead to blood clots.
1. High blood lipids
Blood lipid in nephrotic syndrome patient is higher than patients with with hyperlipidemia. High blood lipid will lead to blood viscosity, causing blood clots.
2. High blood coagulation
Lots of anti-coagulation factors are lost in Nephrotic Syndrome. This will make your body in a high blood coagulation state. Blood clots happen easily.
How to avoid blood clots in Nephrotic Syndrome?
1. Pay attention to your diet
Follow a proper high quality protein diet
Consume enough calories and reduce the intake of foods with high fat or high oil.
Intake foods with rich fibers and vitamins
2. Cooperate with your doctor
Control protein and reduce the leakage of protein
Take treatment for reducing lipid and fiber
Take antigulation medicine
Avoid staying in bed for a long time
Take moderate exercise and correct hypoproteinemia timely to make sure effective blood circulation.
Find the signs of blood clots
Sudden back pain, blood in urine, worse hematuria or less urine are all the signs of renal venous thrombosis.
In case of unknown cause of cough, hemoptysis or hard breath, you should measure your blood pressure, heart beat and blood oxygen concentration timely and then take timely treatment to prevent pulmonary blood clots.
Nephrotic syndrome patients need to check body changes such as stiff skin syndrome, hyperpigmentation and the degree of swelling, etc. If you have these symptoms, you should take timely treatment.
Our Treatment Effect
Swelling is an obvious sign of Nephrotic Syndrome
Move the mouse to enlarge the picture
Look, this patient has severe leg swelling which has made her feel pain and can not get out of the bed. In order to seek better treatment, she came to our hospital for Chinese medicine treatments. 30kg of fluid was removed from her body in less than a month. Her leg swelling disappeared completely. Now you can see her long legs again.
Proteinuria can also be seen in kidney patients
Move the mouse to enlarge the picture
Look, this patient has severe proteinuria when he just came to our hospital. With our Chinese medicine treatments, his condition was better and better. Bubbles in urine gradually reduced and finally disappeared in 10 days of treatment.
New Zealand Patient Second Visit to Our Hospital for TCM
Nephrotic Syndrome Illness Analysis