Which Treatment Lowers 10kg Body Weight In Nephrotic Syndrome
2017-06-15 03:51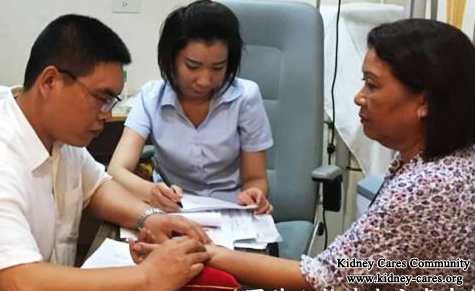 Swelling, proteinuria, elevated blood lipids and hypoproteinuria are four signs of Nephrotic Syndrome. Nowadays, more and more people are suffering from Nephrotic Syndrome. Well then, is there any treatment to treat Nephrotic Syndrome?
A patient has suffered from Nephrotic Syndrome for 6 years. She is bothered by swelling, proteinuria and blood in urine. She has visited many hospitals but there is no improvement of her condition. Recently, her condition relapses and her body weight increases 5kg in just one month. Under the introduction of kidney patients, she knows our hospital and our Toxin-Removing Treatment. She wants to have another try.
First medical report in our hospital
Urine protein 4+
Occult blood 2+
24h urine protein quantity 10.47g
Based on these results and her condition, we give her the consultation of Chinese medical experts and make a treatment plan:
Chinese medicine treatment plan
Hot Compress Therapy: Three times a day and each time for 50 minutes
Mai Kang Mixture: It is taken orally and three times a day.
Umbilical Therapy: Once a day and each time for 20 minutes
Medicated Bath: once every other day and take treatments until you sweat.
Western medicine treatment plan
Improve immunity: Intravenous immunoglobulin
Inhibit immune inflammatory reaction : intravenous prednisolone sodium succinate and oral tacrolimus capsules
Increase urine to eliminate swelling: Torasemide injection and oral hydrochlorothiazide tablets
Anti-coagulation: subcutaneous injection of low molecular-weight heparin calcium
Patients feel fatigue, keep quiet, chest distress and shortness of breath, tongue coating turning white and weak pulse. These are signs of spleen kidney qi deficiency. Chinese medicines can invigorate spleen and kidney like mulberry, nutmeg, red clover and red rooted salvia.
The inhibition of western medicines and the restoration of Chinese medicines can reduce the side effects of western medicines and also reduce complications.
After our treatments, urine protein and occult blood become negative. 24h urine protein quantity is reduced to 0.16g. More importantly, her body weight is reduced 10kg. She feels very good.
If you want to learn more information, you can leave a message below or consult our online doctor directly.
Our Treatment Effect
Swelling is an obvious sign of Nephrotic Syndrome
Move the mouse to enlarge the picture
Look, this patient has severe leg swelling which has made her feel pain and can not get out of the bed. In order to seek better treatment, she came to our hospital for Chinese medicine treatments. 30kg of fluid was removed from her body in less than a month. Her leg swelling disappeared completely. Now you can see her long legs again.
Proteinuria can also be seen in kidney patients
Move the mouse to enlarge the picture
Look, this patient has severe proteinuria when he just came to our hospital. With our Chinese medicine treatments, his condition was better and better. Bubbles in urine gradually reduced and finally disappeared in 10 days of treatment.
New Zealand Patient Second Visit to Our Hospital for TCM
Nephrotic Syndrome Illness Analysis