A Good Treatment for Proteinuria In Nephrotic Syndrome
2017-04-23 01:34
Proteinuria is an obvious and refractory complication from Nephrotic Syndrome. It is worried by lots of patients. Fortunately, our hospital creates a good treatment for proteinuria in kidney patients.
The following is a successful patient story in our hospital.
Xiaoya is just 5 years old. Due to a cold half year ago, Nephrotic Syndrome was induced. At that time, her eyelids and lower limbs are swollen. Her parents hurrily took her to local hospital for treatment. The result was protein 4+ and protein quantity was 11g.
From then on, she began to take steroids. Her face became moon face. Even though she took a long time of steroids, there was no improvement of her condition. The parents did not want the child to bear the side effects from steroids and also did not want to delay the condition. Finally under another patient's introduction, she came to our hospital for Chinese medicine treatments.
Before our treatment
Her 24h protein quantity was 3.35g.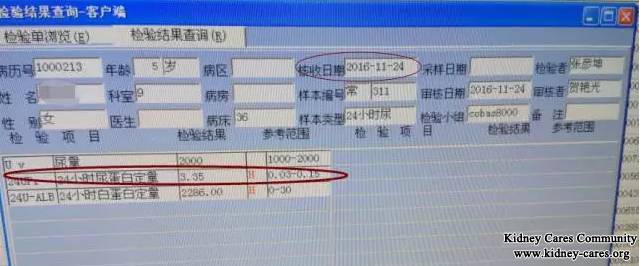 During our treatment
Considering that Xiaoya is not very sensitive to steroids, our doctor decided to give him steroid therapy and Chinese medicine treatments.
After our treatment
4 days later, her swelling was relieved greatly and her condition also became stable. Her parents want her to be discharged from the hospital and continue the medicine at home. After experts' discussion, we allowed her to leave the hospital and also prescribed some medicines for her.
3 months later, she came for check up. Her proteinu was reduced to 1g. Her parents are very responsible for her condition. Several days later, the result was more better. Her protein was 0.24g which is near to the normal level (0.03-0.15g).


From her condition, we can see the prognosis of nephrotic syndrome is good as long as you find the right treatment. Chinese medicine formula and dosage should be adjusted based on patient's illness condition. If you want to learn detailed information, you can leave a message below or consult our online doctor directly.
Our Treatment Effect
Swelling is an obvious sign of Nephrotic Syndrome
Move the mouse to enlarge the picture
Look, this patient has severe leg swelling which has made her feel pain and can not get out of the bed. In order to seek better treatment, she came to our hospital for Chinese medicine treatments. 30kg of fluid was removed from her body in less than a month. Her leg swelling disappeared completely. Now you can see her long legs again.
Proteinuria can also be seen in kidney patients
Move the mouse to enlarge the picture
Look, this patient has severe proteinuria when he just came to our hospital. With our Chinese medicine treatments, his condition was better and better. Bubbles in urine gradually reduced and finally disappeared in 10 days of treatment.
New Zealand Patient Second Visit to Our Hospital for TCM
Nephrotic Syndrome Illness Analysis