Proteinuria 10.44g Is Reduced To 0.44g In Nephrotic Syndrome
2017-03-04 03:05
Massive proteinuria is an obvious complication in Nephrotic Syndrome. A patient with proteinuria 10.44g comes to our hospital for treatment. Half month later, his proteinuria is reduced to 0.44g in Nephrotic Syndrome. Do you want to know how he does this?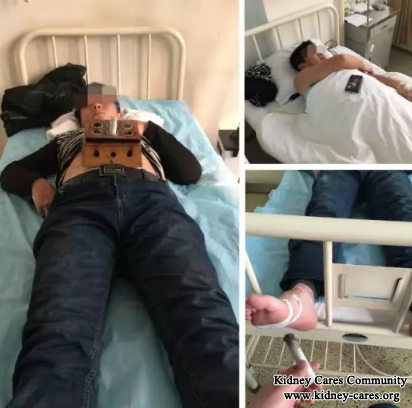 Mr Wang found his legs were swelling one year ago. He did not pay attention to it and just thought the leg swelling came from tiredness. But the swelling did not go awaya after rest. At this time,he went to hospital for check up. The result was protein 3+, occult blood 3+ and 24h urine protein quantity 3.6g. He was diagnosed with Nephrotic Syndrome. After 14 days of hospitalization, his leg swelling disappeared but protein 3+ and occult blood 3+ still existed. Seeing this bad result, he decided to leave the hospital. At home, he took oral Chinese medicine soup. After about one month of treatment, his leg was not swelling but after a while swelling appeared again. Finally under the introduction of his friend, he came to our hospital for treatment.
When he just came to our hospital, his body weight was 72kg, protein was 4+, occult blood was 1+ and 24h urine protein quantity was 10.44g. He was very quite and did not like to talk with others.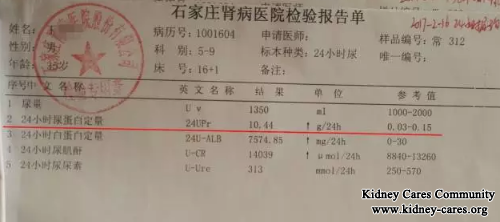 With our Chinese medicine treatment, his body weight was reduced day by day. Swelling disappeared and he had a good mood. He began to talk with wardmates. On nice days he went to park and got some sun.
After a period of treatment, protein was reduced to +- and occlut blood became negative. 24h urine protein quantity was reduced to 0.44g. He was very happy with this good result.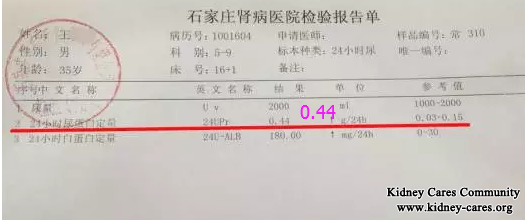 Simply western medicines can not treat Nephrotic Syndrome effectively. Systematic Chinese medicine treatments can do better and they include many natural remedies such as Medicated Bath, Mai Kang Mixture, Micro-Chinese Medicine Osmotherapy, Medicated Foot Bath, Medicinal Soup and Moxibustion Therapy, etc. They can cleanse your blood and then help repair injured kidney tissues and improve renal function gradually. In this way, Nephrotic Syndrome can be treated effectively. If you want to learn more information, you can leave a message below or consult our online doctor directly.