A Nephrotic Syndrome Patient Spend The Spring Festival In Our Hospital
2017-02-15 02:30
Spring Festival is an very important festival in China. It is time for every family reunion. However, compared with health, Spring Festival is not that important. A boy with Nephrotic Syndrome comes to our hospital for recheck up during Spring Festival.
This boy is just 8 years old and was diagnosed with Nephrotic Syndrome in autumn of 2016. When he just came to our hospital, his condition was a little serious. He looked very fat due to swelling and also could not open his eyes. He cried every day.
Nephrotic Syndrome results from a problem with the kidneys' filters, called glomeruli. Glomeruli helps remove wastes and excess fluids from the blood and send them to the bladder as urine. As blood passes through healthy kidneys, the glomeruli filter out the waste products and allow the blood to retain cells and proteins the body needs. However, proteins from the blood, like albumin can leak into the urine when glomeruli are damaged.
From this analysis, we can see the key point in Nephrotic Syndrome treatment is to repair injured glomeruli. Only in this way can swelling and proteinuria be treated from the root. Common treatment for Nephrotic Syndrome is steroid therapy which can relieve your symptoms quickly but fail to treat your disease from the root. That is, Nephrotic Syndrome relapses frequently.
In order to avoid relapse, our hospital creates a systematic Chinese Medicine Treatment including Micro-Chinese Medicine Osmotherapy, Mai Kang Mixture, Medicinal Soup and Medicated Foot Bath, etc. External and Internal Application combine together to treat injured glomeruli. Our Chinese medicines first remove wastes and toxins out to give you a clean blood environment for repairing injured kidney tissues ad improving renal function gradually.
After one week of our Chinese medicine treatment, his swelling disappeared and later his protein was negative.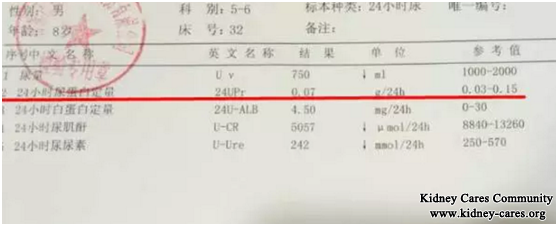 His father took him for recheck up during this Spring Festival. Kidney patients need to pay special attention to their condition during festival time in order not to worsen their condition.
Our Chinese Medicine Treatment is only available in China. If you want to get detailed information about our Chinese medicine treatments, you can leave a message below or consult our online doctor directly.
Our Treatment Effect
Swelling is an obvious sign of Nephrotic Syndrome
Move the mouse to enlarge the picture
Look, this patient has severe leg swelling which has made her feel pain and can not get out of the bed. In order to seek better treatment, she came to our hospital for Chinese medicine treatments. 30kg of fluid was removed from her body in less than a month. Her leg swelling disappeared completely. Now you can see her long legs again.
Proteinuria can also be seen in kidney patients
Move the mouse to enlarge the picture
Look, this patient has severe proteinuria when he just came to our hospital. With our Chinese medicine treatments, his condition was better and better. Bubbles in urine gradually reduced and finally disappeared in 10 days of treatment.
New Zealand Patient Second Visit to Our Hospital for TCM
Nephrotic Syndrome Illness Analysis