Reject Steroid Therapy for Nephrotic Syndrome
2016-12-16 06:20
Steroid therapy is the common treatment for Nephrotic Syndrome. But some patients reject it. Is there any other therapy for Nephrotic Syndrome except for steroids?
Xiaoyong is a student. 3 months ago, there was swelling in his legs. He went to hospital for a check up. The lab reports show protein 3+ and 24h urine protein quantity 6.94g. The doctor diagnosed him with Nephrotic Syndrome and recommended him to take bonny loose piece of acetic acid. However, xiaoyong rejected to take steroid therapy. Later on, xiaoyong found a Chinese Medicine Clinic to take oral Chinese Medicine soup. After a period of treatment, his protein was 3+, occult blood was 1+ and 24h urine protein quantity was 8.4g. He was suggested to take bonny loose piece acetic acid again. This advice was rejected again by xiaoyong.
Under one patient's introduction, he decided to come to our hospital for a try.
Before our treatment, his swelling was severe. Since the fluid can not be discharged, the untrasound test showed there was hydrops in chest and abdomen. His urine volume was just 500ml and his weight was 77kg.
The swelling is from protein leakage. As long as protein leakage is controlled, swelling will disappear naturally. Therefore, the treatment should first use Chinese medicines to cleanse toxins in kidney intrinsic cells and blood. When toxins are removed from your body, it can improve the internal environment of your kidneys and control your kidney inflammatory reaction so as to reduce proteinuria and eliminate swelling from the root.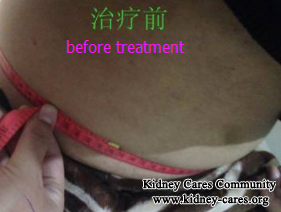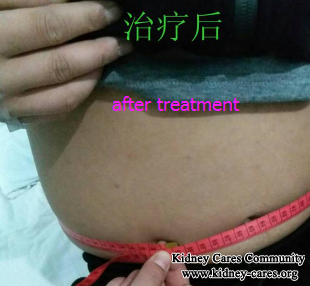 With the further treatment, his urine volume was increased to 3500ml and body weight was reduced to 65.3kg.
His swelling was relieved greatly and his activities became more convenient than before. He always went to the dining hall to have a meal with other patients. He also went to the park to have a walk.
The first step is to eliminate swelling. However, it is not easy to reduce proteinuria. He needs to continue the treatment to consolidate the curative effects. Let's look forward to his good result.