A Red Letter Day For This Nephrotic Syndrome Patient
2016-06-29 07:22
Mr Wang is a Nephrotic Syndrome patient. Today is a red letter day. After our hospital's characteristic Chinese medicine treatments, his 24 hour urinary protein quantitation is reduced to 0.96g from 4.58g. Occult blood becomes negative and proteinuria reduces to 1+ from 3+. Let's congratulate for him.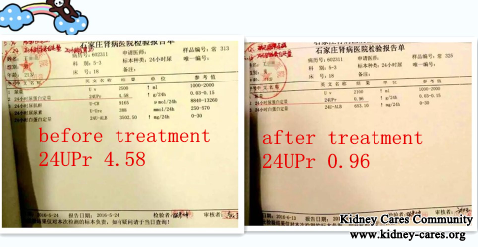 Nephrotic Syndrome happens when tiny filtering units in the kidneys stop working properly. When the glomeruli stop filtering properly, they allow too much protein to leave the blood. Protein helps hold fluids in the blood, so when there is less protein in the blood, the fluids may move to other body parts and cause swelling in the face, belly, hands, arms and other extremeties.
How does our Chinese Medicine Treatments treat Nephrotic Syndrome?
Our Chinese Medicine Treatments include several therapies like Mai Kang Mixture, Medicinal Soup, Medicated Foot Bath, Medicated Bath, Acupuncture, Moxibustion Therapy and Enema Therapy, etc. They first cleanse your blood through removing toxins and wastes from your body. Thus, Chinese Medicine Treatment can also be called Toxin-Removing Treatment. The key point in kidney disease treatment is to purify your blood, otherwise, no matter which medicine you take, the therapeutic effect will not be good. What's more, if your blood can not be purified, toxins will affect your kidney intrinsic cells and cause further kidney damage.
After your blood is purified, your kidneys can get repaired in this good blood environment. That is, it can repair your injured glomeruli so as to treat your Nephrotic Syndrome from the root. Then, protein leakage will be stopped and swelling can disappear.
However, Toxin-Removing Treatment is only available in China so foreign patients need to come to China for treatment. We have no branches in India and any other countries. If you want to avoid frequent relapse in Nephrotic Syndrome, Toxin-Removing Treatment is worth trying. Believe us and we can give you a better life.
Our Treatment Effect
Swelling is an obvious sign of Nephrotic Syndrome
Move the mouse to enlarge the picture
Look, this patient has severe leg swelling which has made her feel pain and can not get out of the bed. In order to seek better treatment, she came to our hospital for Chinese medicine treatments. 30kg of fluid was removed from her body in less than a month. Her leg swelling disappeared completely. Now you can see her long legs again.
Proteinuria can also be seen in kidney patients
Move the mouse to enlarge the picture
Look, this patient has severe proteinuria when he just came to our hospital. With our Chinese medicine treatments, his condition was better and better. Bubbles in urine gradually reduced and finally disappeared in 10 days of treatment.
New Zealand Patient Second Visit to Our Hospital for TCM
Nephrotic Syndrome Illness Analysis