How Could A Nephrotic Syndrome Patient Spend Christmas Happily And Safely
2015-12-23 05:23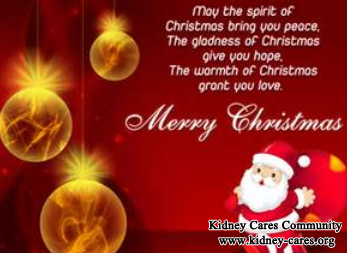 Tomorrow evening is Christmas Eve and the day after tomorrow is Christmas Day. Are you satisfied it? Yes, we are all looking forward to its coming. However, for a person with Nephrotic Syndrome (NS), they may have some worries. How could he or she spend this Christmas happily and safely?
Healthy eating on Christmas
The Christmas feast is feared by persons on a special diet, their family members, and members of the health care team. Here will give you some suggestion on Christmas holiday.
1. Avoid high sodium food
Processed foods such as ham, smoked chicken or turkey, sausages, canned meat or fish/vegetables, ice cream, soy sauce, salted fish and ketchup should be avoided since sodium is used as a, preservative to process these foods.
2. Avoid fruits or vegetables high in potassium
Fruits such as papaya, soursop, custard apple, ripe banana, dried fruits (raisins, prunes, mixed fruit, cherries) are high in potassium and should be avoided.
Vegetables like pumpkin, spinach, mustard greens, mushrooms, beetroot and canned mixed vegetables should be avoided because of their high potassium content. In addition, all peas, beans and nuts are high in potassium and should be avoided.
3. Use natural seasonings
Natural seasonings such as onions, garlic, pepper, lemon and fresh vegetables should be used instead of salt, powdered seasonings, soy sauce and ketchup. White/granulated sugar or honey should be used to sweeten instead of brown sugar, molasses and wet sugar.
Chinese medicine treatment for Nephrotic Syndrome
Steroids are commonly used to treat nephrotic syndrome. They can help control some symptoms quickly. But they should not be used for a long time because the side effects of steroids are very huge. On the contrary, Chinese medicines are natural and are welcomed by more and more patients. Chinese medicine treatments especially Immunotherapy can treat Nephrotic Syndrome fundamentally. Immunotherapy can not only relieve symptoms such as edema, protein in urine and poor appetite but also repair injured kidney tissues and improve kidney function.
Healthy eating and Chinese medicine treatments can help a Nephrotic Syndrome patient have a prosperous Christmas and a happy New Year.
Our Treatment Effect
Swelling is an obvious sign of Nephrotic Syndrome
Move the mouse to enlarge the picture
Look, this patient has severe leg swelling which has made her feel pain and can not get out of the bed. In order to seek better treatment, she came to our hospital for Chinese medicine treatments. 30kg of fluid was removed from her body in less than a month. Her leg swelling disappeared completely. Now you can see her long legs again.
Proteinuria can also be seen in kidney patients
Move the mouse to enlarge the picture
Look, this patient has severe proteinuria when he just came to our hospital. With our Chinese medicine treatments, his condition was better and better. Bubbles in urine gradually reduced and finally disappeared in 10 days of treatment.
New Zealand Patient Second Visit to Our Hospital for TCM
Nephrotic Syndrome Illness Analysis