What Are Some Abnormal Lab Values For Nephrotic Syndrome
2015-12-11 02:04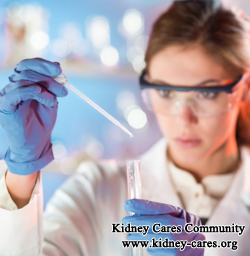 Nephrotic syndrome is a collection of symptoms that indicate kidney damage. When kidneys are damaged, some lab values will become abnormal. Well, what are some abnormal lab values for Nephrotic Syndrome?
Abnormal Lab values in Nephrotic Syndrome
1. Abnormal creatinine and BUN level
Healthy kidneys are responsible for discharging wastes from the body. The kidneys maintain the blood creatinine and blood urea nitrogen (BUN) in a normal range. Creatinine level and BUN level have been found to be a fairly reliable indicator of kidney function. As kidneys become impaired for any reason, the creatinine level and BUN level in the blood will rise due to poor clearance of creatinine and urea nitrogen by the kidneys.
2. Proteinuria
Nephrotic Syndrome is usually accompanied by proteinuria. A proteinuria of greater than 3.5g/24h is considered to be proteinuria in the nephrotic syndrome.
3. Hypoalbuminemia
Hypoalbuminemia is another common symptom in Nephrotic Syndrome. A hypoalbuminemia is less than 2.5g/dL.
4. Hyperlipidemia
Nephrotic syndrome patients also suffer from hyperlipidemia which is a medical condition that is characterized by excess amounts of fatty substances such as cholesterol and triglycerides in the blood.
The above are some common lab values for nephrotic syndrome. When you are diagnosed with nephrotic syndrome, you should take timely treatment to prevent its progression.
How is Nephrotic Syndrome treated?
Treating nephrotic syndrome includes addressing the underlying cause as well as taking steps to lower high blood pressure, edema, high cholesterol, and the risk of infection.
1. Medications for high blood pressure
Medications that lower blood pressure can significantly slow the progression of kidney disease causing nephrotic syndrome. Blood pressure lowering medications including ACE inhibitors and ARBs are proven effective in slowing the progression of kidney disease by reducing the pressure inside the glomeruli and thereby reducing proteinuria.
2. High cholesterol medications
Statin medications may be given to lower cholesterol.
3. Infection medications
Nephrotic syndrome patients should receive the pneumococcal vaccine, which prevents bacterium that commonly causes infection.
4. Blood thinning medications
Nephrotic syndrome patients with blood clots may be given Blood Thinning medications.
The above medications can only control symptoms but do noting on the damaged kidneys. To treat nephrotic syndrome well, Immunotherapy is strong recommended. This therapy combines western medicines and Chinese medicines like Chinese herbs, medicated foot bath, massage, acupuncture and Tai Chi,etc. Western medicines control symptoms quickly. And Chinese medicines help repair injured kidneys and nourish your kidneys. By combining them, Nephrotic Syndrome can be treated well from the root.
If you have any question, you can leave us a message below or send an email to kidneycares@hotmail.com. We will try our best to help you.
Our Treatment Effect
Swelling is an obvious sign of Nephrotic Syndrome
Move the mouse to enlarge the picture
Look, this patient has severe leg swelling which has made her feel pain and can not get out of the bed. In order to seek better treatment, she came to our hospital for Chinese medicine treatments. 30kg of fluid was removed from her body in less than a month. Her leg swelling disappeared completely. Now you can see her long legs again.
Proteinuria can also be seen in kidney patients
Move the mouse to enlarge the picture
Look, this patient has severe proteinuria when he just came to our hospital. With our Chinese medicine treatments, his condition was better and better. Bubbles in urine gradually reduced and finally disappeared in 10 days of treatment.
New Zealand Patient Second Visit to Our Hospital for TCM
Nephrotic Syndrome Illness Analysis