How To Do If Nephrotic Syndrome Patients Are Not Sensitive To Steroids
2015-08-18 02:03
Nephrotic Syndrome is the most common manifestation. Most primary or secondary kidney disease types can be characterized by nephrotic syndrome. Nephrotic syndrome is characterized by severe edema and massive proteinuria. And doctors and patients all think that steroids can be used. But the problem is that what to do if patients are not sensitive to steroids.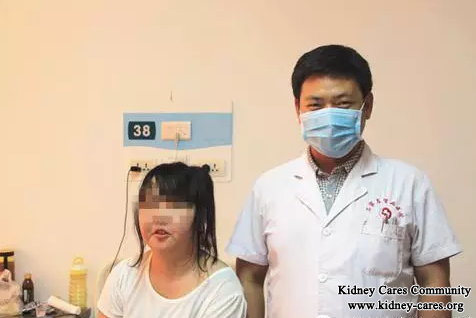 26th July, a girl with nephrotic syndrome came to our hospital and had nephritic syndrome for 11 months. But during this period of time, she has tries all common therapies for nephrotic syndrome.
Last August, due to edema of lower extremity, she went to hospital for examination. At that time, her urine protein was 3+ and plasma-albumin was 24g/L so she was diagnosed with "primary Nephrotic Syndrome ". In her local hospital, she was given cyclophosphamide, prednisone acetate tablets, spironolactone tablets and other steroids. But the problem is that she is not sensitive to steroids. No curative effects show and what's worse, her face becomes bigger and bigger. At this time, her 24-hour urinary protein quantity becomes 4.08g. Under this severe condition, she comes to our hospital.
Modern research has found that one major reason of primary kidney disease is immune complexes depositing in kidneys, which is easy to cause aggressive inflammatory response. This will cause lots of renal cell necrosis.
Steroids can inhibit inflammatory reaction but cannot cleanse immune complexes. Therefore, we use Chinese medicine to cleanse immune complexes. This is the characteristic of our Chinese medicine. After two weeks of treatment, protein quantity is reduced and this is the greatest news for this nephrotic syndrome girl.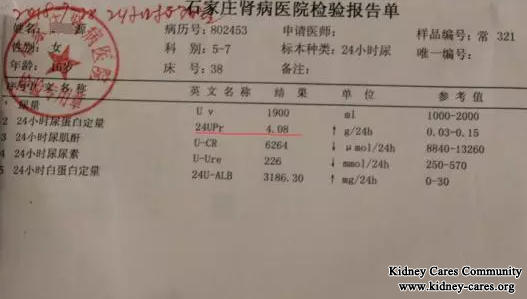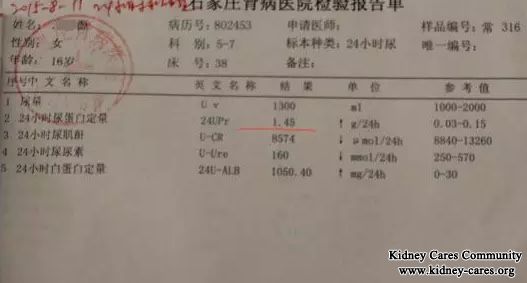 If you want to learn more information about our Chinese medicine, you can leave us a message below or consult our online doctor directly. We will give you a reply.
Our Treatment Effect
Swelling is an obvious sign of Nephrotic Syndrome
Move the mouse to enlarge the picture
Look, this patient has severe leg swelling which has made her feel pain and can not get out of the bed. In order to seek better treatment, she came to our hospital for Chinese medicine treatments. 30kg of fluid was removed from her body in less than a month. Her leg swelling disappeared completely. Now you can see her long legs again.
Proteinuria can also be seen in kidney patients
Move the mouse to enlarge the picture
Look, this patient has severe proteinuria when he just came to our hospital. With our Chinese medicine treatments, his condition was better and better. Bubbles in urine gradually reduced and finally disappeared in 10 days of treatment.
New Zealand Patient Second Visit to Our Hospital for TCM
Nephrotic Syndrome Illness Analysis