Can Nephrotic Syndrome Patients Get Rid Of Steroids
2015-06-07 01:53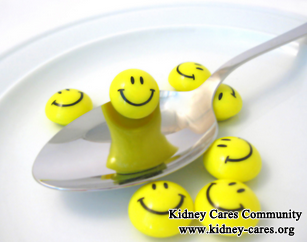 When it comes to Nephrotic Syndrome (NS), we have to mention Glucocorticoid. What is the function of steroids in Nephrotic Syndrome? Why does kidney disease relapse when we reduce the dosage?
What is Nephrotic Syndrome?
Nephrotic Syndrome is a set of clinical symptoms of kidney disease, which is characterized by massive proteinuria, severe edema, hyperlipidaemia and hypoproteinemia.
Why does kidney disease occur? Modern medical research indicates that since immunity declines and lots of immune complexes present in blood and deposit in kidneys, which will cause immuno-inflammatory responses or lead to renal ischemia and anoxia, this results in kidney disease.
Simply speaking, kidney disease is caused by immune complexes deposit which triggers immuno-inflammatory reaction and renal ischemia and anoxia in kidneys.
How do steroids help Nephrotic Syndrome?
The main function of steroid is to suppress immunoreaction, inflammation, detoxification and shock. In addition to kidney disease, other serious infection will also be applied to steroids.
From the function of steroids, we can see steroids are mainly used to inhibit immuno-inflammatory reaction during the treatment for kidney disease. This can reduce or stop further damage on kidney cells so as to alleviate kidney disease.
However, steroids cannot improve renal ischemia and anoxia. Let alone to remove immune complexes.
Therefore, although steroids can alleviate your medical conditions, efficacy will also decrease with the dosage reduction. When the efficacy of steroids cannot inhibit immuno-inflammatory reaction, kidney damage will occur again. That is, kidney disease relapse.
Simply speaking, steroid is not the bane of Nephrotic Syndrome while method to remove immune complexes is. Methods to remove immune complexes include Blood Purification Therapy, Blood Plasma Therapy, Immunotherapy, Micro-Chinese Medicine Osmotherapy and Four One Chinese Medicine Treatment, etc. All these are natural Chinese Medicine Treatment. If you want to learn detailed information about these therapies, you can leave a message to kidneycares@hotmail.com or consult our online doctor directly.
Our Treatment Effect
Swelling is an obvious sign of Nephrotic Syndrome
Move the mouse to enlarge the picture
Look, this patient has severe leg swelling which has made her feel pain and can not get out of the bed. In order to seek better treatment, she came to our hospital for Chinese medicine treatments. 30kg of fluid was removed from her body in less than a month. Her leg swelling disappeared completely. Now you can see her long legs again.
Proteinuria can also be seen in kidney patients
Move the mouse to enlarge the picture
Look, this patient has severe proteinuria when he just came to our hospital. With our Chinese medicine treatments, his condition was better and better. Bubbles in urine gradually reduced and finally disappeared in 10 days of treatment.
New Zealand Patient Second Visit to Our Hospital for TCM
Nephrotic Syndrome Illness Analysis