Is There Any Remedy To Treat Nephrotic Syndrome
2014-04-14 07:33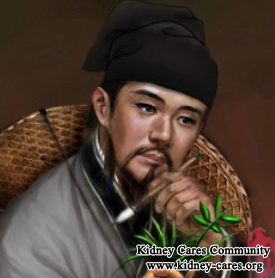 Nephrotic Syndrome(NS) is the name given to a group of medical conditions that appear related. And NS is a kidney condition that involves very high levels of protein in the urine(proteinuria), low levels of protein in the blood, swelling from a buildup of fluids in the body and high cholesterol. With these four characteristic symptoms, if left untreated, they may aggravate nephrotic syndrome and lead to kidney failure. For this reason, how to treat Nephrotic Syndrome becomes urgent to many patients.
Because there is not one single cause of nephrotic syndrome, it is very important to understand why you have it since it is important to treat the underlying cause, rather than just the symptoms. This is the best way to treat the disorder and prevent further damage to the kidneys.
1. Control proteinuria
Medications and diet changes that reduce the amount of protein in the urine can also help. An urinalysis will confirm protein level in urine. X-rays of the kidneys or a kidney biopsy may be necessary to determine proper treatment. Once the specific kidney disease or disorder is diagnosed, your doctor will monitor the protein levels in your urine via urinalysis on a regular basis.
2. Eastern medicines
Different from western medicines for kidney related symptoms, eastern medicines physicians give their patients natura herbal formular that offer support and balance to the body as a whole. Their aim is to detoxify the body whole supporting the kidneys and other key organs in order for the body to heal itself and restore proper kidney filtration and kidney function. For eastern medicine to treat nephrotic syndrome, there are many herbs such as astragalus root, codonopsis root, white atractylodes rhizome, poria, coix seed, prepared aconite root, cinnamon bark, aucklandia root and epimedium etc. In addition, there is a systemic therapy which refers to Micro-Chinese Medicine Osmotherapy to manage NS. Several herbs are chosen depending on patients' individualized medical conditions and then the micronized herbs can get to the kidney location through your skin with the help of osmosis machine and osmosis fluid. With this therapy, it can help promote blood circulation, repair injured kidney cells and improve kidney function.
Due to individualized medical conditions, here we cannot give you a definite herbal formula. If you happen to a Nephrotic Syndrome patient and are interested in eastern medicines, you can describe your condition to our online doctor or leave it tokidneycares@hotmail.com and we will make a herbal plan after analyzing your condition.