Nephrotic Syndrome Relapses While Prednisone Is Used
2013-10-26 15:06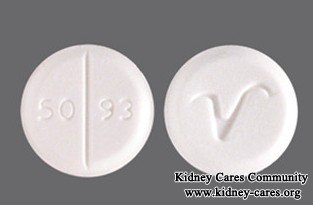 Prednisone is a commonly used medication for nephrotic syndrome.Generally,after a period of treatment,the patients will have a remission.However,the disease is very likely to relapse.What to do if nephrotic syndrome relapses while prednisone is used?
Why does nephrotic syndrome relapse while prednisone is used?
Nephrotic syndrome is an immunologically medicated disorder featured with inflammation and structural change of glomeruli. Glomeruli are the filters in kidneys which can eliminate wastes and extra fluid from body.
Prednisone can suppress the inflammatory response in kidneys and reduce the permeability of renal capillaires.Therefore,the leakage of protein in urine will be reduced and Nephrotic Syndrome will have a remission.
However,the immune dysfunction can not be corrected with prednisone.Whenever there is a trigger,nephrotic syndrome will relapse.Frequent relapses of the condition can worsen renal function significantly.
How to prevent relapse of nephrotic syndrome?
As the frequent relapses of nephrotic syndrome can worsen the prognosis of the disease significantly,it is important for the patients to seek for an alternative treatment.
Immunotherapy is an effective treatment for nephrotic syndrome.It can treat the disease from its underlying causes, thus stopping it from relapsing completely.How does it work?
-Inhibit the inflammation in kidneys
Immunotherapy can stop the impaired kidney tissues from releasing inflammatory factors and attracting inflammatory factors from body.Therefore,the inflammation in kidneys will be inhibited.
-Correct immune dysfunction
Immunotherapy can correct the immune dysfunction and help the body rebuild normal immune system.When immune system return to normal to protect the body, it will not attack kidney tissues and cells.
Immunotherapy can treat nephrotic syndrome from its underlying causes.Therefore,the disease can be controlled completely and fundamentally without relapse. If so, no prednisone will be required.