Can Children With Nephrotic Syndrome Develop Osteoporosis
2017-12-10 08:33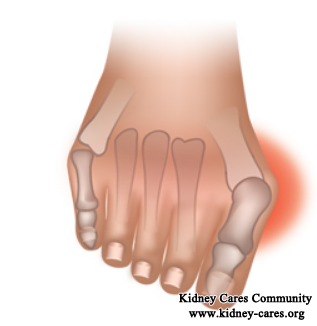 Nephrotic Syndrome can cause a lot of symptoms including proteinuria, hyperlipidemia, edema and osteoporosis, etc. How to manage osteoporosis. The following will give you detailed information.
Calcium and phosphorus are two important minerals for healthy bones. These minerals are found in many foods. In Nephrotic Syndrome, calcium and phosphorus get out of balance. If the kidneys are not working at full capacity, they may not be able to get rid of enough phosphorus to keep the balance. Over time, phosphorus will build up in the blood and calcium can get too low. In this condition, the parathyroid glands make too much of a hormone called PTH. High PTH can pull calcium out of your bones making them weak and some of the calcium may end up in the heart and blood vessels which may cause heart and blood vessel disease.
Besides, steroids for a long time can also cause bone problem and make your bone very weak. Osteoporosis occurs.
What is the treatment for osteoporosis in Nephrotic Syndrome?
You can take the following treatments to manage your osteoporosis:
1. Vitamin D intake
You can take some vitamin D to relieve your bone problem. Vitamin D is important in affecting your calcium and parathyroid hormone balance.
2. Exercise
Exercise is important to overall good health and to bone health. A simple exercise program can increase strength and energy in addition to protecting your bones and helping your blood pressure.
3. Chinese medicine treatments
We have a systematic Chinese medicine treatments including Micro-Chinese Medicine Osmotherapy, Medicated Bath, Medicated Foot Bath, Moxibustion Therapy, Steaming Therapy, Enema Therapy and Medicinal Soup, etc. They can treat Nephrotic Syndrome from the root through dilating blood vessels, improving blood circulation, preventing inflammation and coagulation, degrading extracellular matrix and providing nutrients, etc. In this way, bone problem can be treated from the root.
If you have any problem about Nephrotic Syndrome, you can leave a message below or email kidneycares@hotmail.com. We will reply you as soon as possible.
Our Treatment Effect
Swelling is an obvious sign of Nephrotic Syndrome
Move the mouse to enlarge the picture
Look, this patient has severe leg swelling which has made her feel pain and can not get out of the bed. In order to seek better treatment, she came to our hospital for Chinese medicine treatments. 30kg of fluid was removed from her body in less than a month. Her leg swelling disappeared completely. Now you can see her long legs again.
Proteinuria can also be seen in kidney patients
Move the mouse to enlarge the picture
Look, this patient has severe proteinuria when he just came to our hospital. With our Chinese medicine treatments, his condition was better and better. Bubbles in urine gradually reduced and finally disappeared in 10 days of treatment.
New Zealand Patient Second Visit to Our Hospital for TCM
Nephrotic Syndrome Illness Analysis