Nephrotic Syndrome, Urine Protein Quantitation Is Reduced To 3.56g From 5.01g
2016-06-18 06:07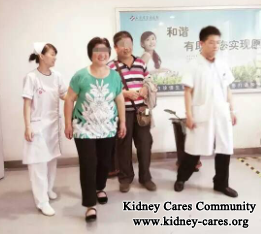 She is a Nephrotic Syndrome patient. When she just comes to our hospital, the medical reports show her urine protein quantitation is 5.01g. After a period of Four One Chinese Medicine Treatment, her urine protein quantitation reduces to 3.56g from 5.01g.
What is Four One Chinese Medicine Treatment?
Four One Chinese Medicine Treatment in our hospital is a systematic Chinese medicine treatment and it includes four therapies such as Micro-Chinese Medicine Osmotherapy, Medicated Foot Bath, Mai Kang Mixture and Medicinal Soup. They combine together to repair kidney damage and improve renal function. When injured kidneys are repaired, protein leakage will be stopped and symptoms like swelling, anemia and weakness can all be managed from the root.
How does Four One Chinese Medicine Treatment treat Nephrotic Syndrome?
Different therapy has different function and these four therapies combine together to treat Nephrotic Syndrome.
1. Micro-Chinese Medicine Osmotherapy
This Therapy is an external application based on Traditional Chinese Medicine (TCM). Chinese medicines are first micronized into pieces and then collected into two medicated bags. It has four functions of dilating your blood vessels, preventing inflammation, block coagulation and degrade extracellular matrix. This can slow down the progression of renal fibrosis and provide a good blood environment for repairing kidney damage.
2. Medicated Foot Bath
Immerse your feet into medicated tub with medicinal soup. The temperature increases from 37 centigrade to 40 centigrade. The active ingredients in Chinese medicines can arrive at your body directly through foot cortex. It can promote metabolism, improve blood circulation and warm your hands and feet.
3. Mai Kang Mixture
It is one kind of Chinese medicine patent. It contains various nutrients like organic acid, amino acids, vitamins and trace elements, etc. Mai Kang Mixture can prevent blood clots and reduce high blood pressure.
4. Medicinal Soup
There are many doses and prescriptions of Chinese medicine soup. According to your specific illness condition, proper dosage and medicines will be given to you.
Four One Chinese Medicine Treatment treats Nephrotic Syndrome from the root. Proteinuria will be managed well. If you want to learn more information, you can leave a message below or send an email to kidneycares@hotmail.com. We will reply you as soon as possible.