Why Nephrotic Syndrome Patients Are Prone To Infection
2015-04-08 07:59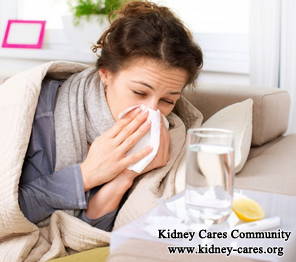 Infection is one of the complications of nephrotic syndrome. Patients with nephrotic syndrome (NS) are prone to suffer from infection but they do not know the reason. Here we will tell you the reason of infection in nephrotic syndrome.
There are three factors that can cause infection:
1. malnutrition
People with nephrotic syndrome will have a restriction in their daily life. We all nutrient balance can make you a good resistance to disease. However, malnutrition will increase the risk of infection. Therefore, infection is one of the complications of nephrotic syndrome.
2. treatment method
The treatment for nephrotic syndrome may also cause infection. During the process of treatment, some people often use steroids or immunosuppressant agents. These medications can help alleviate their condition to some extent but they also affect the immunity. Therefore, infection will also occur.
3. abnormal immune system
The reason why patients suffer from nephrotic syndrome is that their body exists abnormal function of immune system. Abnormal immune system will also lead to infection.
Besides, infection will cause relapse of nephrotic syndrome or worsen the medical condition so patients should treat it seriously. Our hospital applies the combination of Chinese medicine and western medicine to treat nephrotic syndrome. Western medicines control the symptoms and complications quickly and effectively. Chinese medicines are used to expand blood vessels, dissolve blood stasis and clean the toxins, wastes and immune complexes in blood. This method will prevent the relapse of nephrotic syndrome fundamentally and effectively.
Our Treatment Effect
Swelling is an obvious sign of Nephrotic Syndrome
Move the mouse to enlarge the picture
Look, this patient has severe leg swelling which has made her feel pain and can not get out of the bed. In order to seek better treatment, she came to our hospital for Chinese medicine treatments. 30kg of fluid was removed from her body in less than a month. Her leg swelling disappeared completely. Now you can see her long legs again.
Proteinuria can also be seen in kidney patients
Move the mouse to enlarge the picture
Look, this patient has severe proteinuria when he just came to our hospital. With our Chinese medicine treatments, his condition was better and better. Bubbles in urine gradually reduced and finally disappeared in 10 days of treatment.
New Zealand Patient Second Visit to Our Hospital for TCM
Nephrotic Syndrome Illness Analysis