Is There Any Problem For A Nephrotic Syndrome Patient With High Cholesterol
2015-02-11 10:48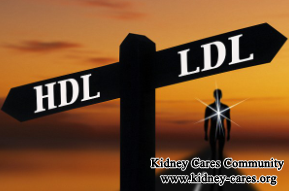 Is there any problem if a nephrotic syndrome patient is suffering with high cholesterol? Report shows high blood cholesterol. Read through the article and you will find the answer.
High cholesterol is completely normal when you are nephrotic. It the result of the liver trying to compensate for the loss of protein. Too much cholesterol can build up in your blood vessels. This pile up can narrow vessels and lead to a blockage, preventing blood from getting to a certain area of your body. When this happens in your heart vessels, it is called coronary heart disease and cause lead to a heart attack. In people with kidney disease, it is common for them to suffer from heart disease. Heart disease is very dangerous and most kidney disease patients die from this disease compared to something else. What's worse, high cholesterol levels cause a further kidney function.
Blood cholesterol is related to animal protein and can be reduced by with the right diet.
Choose foods that are low in saturated fat and cholesterol.
Use less trans fatty acids since they can elevate LDL cholesterol
Increase soluble fiber. Fruits and vegetables and grains are good sources of fiber.
Use herbs and spices to season foods instead of sauces, butter or margarine
Consume fat free or reduced fat versions of high fat foods. For example, use fat-free sour cream in place of regular sour cream or use 1% or skim milk in allowed amounts.
Diet can do some help for lowering high cholesterol to some extent, but if you want to lower it radically, you should repair injured kidneys and improve renal function. Only when kidney function is improved can high cholesterol level be reduced fundamentally and effectively.
Our Treatment Effect
Swelling is an obvious sign of Nephrotic Syndrome
Move the mouse to enlarge the picture
Look, this patient has severe leg swelling which has made her feel pain and can not get out of the bed. In order to seek better treatment, she came to our hospital for Chinese medicine treatments. 30kg of fluid was removed from her body in less than a month. Her leg swelling disappeared completely. Now you can see her long legs again.
Proteinuria can also be seen in kidney patients
Move the mouse to enlarge the picture
Look, this patient has severe proteinuria when he just came to our hospital. With our Chinese medicine treatments, his condition was better and better. Bubbles in urine gradually reduced and finally disappeared in 10 days of treatment.
New Zealand Patient Second Visit to Our Hospital for TCM
Nephrotic Syndrome Illness Analysis