Causes Of Hypoproteinemia In Nephrotic Syndrome
2014-10-28 14:58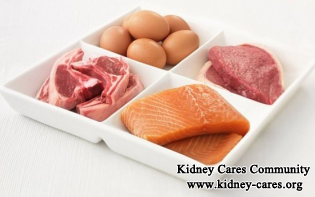 Nephrotic Syndrome (NS) is usually caused by damage to the clusters of small blood vessels in your kidneys that filter waste and excess water from your blood. It is characterized by a number of signs of disease: proteinuria, hypoproteinemia and edema. Well, why does hypoproteinemia occur in Nephrotic Syndrome?
Hypoproteinemia is caused by the following factors:
1. Abnormal protein in human body
Along with nephrotic syndrome, a series of complications will occur such as edema, hyperlipidaemia and anemia. Besides, patients' immunity will decline and immune regulating system will have a big change, which will lead to the occurrence of abnormal protein. In this condition, protein metabolism will become abnormal, protein synthesis declines and even if protein synthesis increases, it cannot supplement protein loss.
2. Abnormal plasma protein loss
Due to external causes, kidney intrinsic cells will present pathological changes, thus leading to obstacle of glomerular filtering barrier function. As a result, massive protein will loss from urine. Excess protein in blood is discharged out of the body via urination but cannot be absorbed by the body. Protein in blood will decrease and hypoproteinemia in this condition occurs.
3. Intestinal tract absorbs less protein.
Renal fibrosis pathology has changes, glomerular filtering function and renal tubular reabsorption function has declined. Massive protein will loss from plasma and edema is also induced.
Hypoproteinemia treatment
1. Diet management
The doctor may recommend protein supplement or ask you to go on a protein diet consisting of lean meat, fish and eggs.
2. Medications
The doctor may also give the following medications to treat hypoproteinemia or correct lack of protein in the body. The medications include human albumin grifols, plasbumin, albuminar-20, alburx, ibutein, flexbumin and albuminar-25.
3. Natural Chinese herbs
Chinese herbs come from nature so you have no need to worry about the side effects. On the basis of Chinese herbs, a treatment which is used externally called Micro-Chinese Medicine Osmotherapy has been created. This therapy can not only increase the efficacy of the medicines but also eliminate immune complexes depositing on kidneys, stop immune inflammatory reaction and further kidney damage. What's more, Chinese herbs can provide nutrition for the damaged kidneys, promote blood microcirculation, remove blood stasis and expand blood vessels. In this way, damaged kidneys can be repaired and renal function can be enhanced from the root. Hypoproteinemia in this case can be relieved effectively and naturally.