Top 5 Complications Of Nephrotic Syndrome
2014-09-21 02:30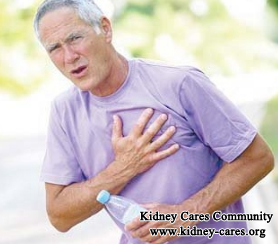 What are complications of Nephrotic Syndrome (NS)? It is a little difficult to treat NS and this diseases affects patients' physical and psychological health. Since many people have no overall knowledge to nephrotic syndrome and do not realize the dangers, it often leads to misdiagnosis. Well, what are the complications of NS?
NS has become a kind of major disease which threatens human health. Without timely treatment, it will progress very quickly and kidney function will decline at a quick speed. In a short time, this disease may develop into uremia. Finally dialysis may be offered. Even kidney transplant is done to sustain your life. As you can imagine, how serious NS is.
1. Acute kidney failure
Nephrotic Syndrome has great damage and generally it can lead to acute kidney failure. This is because some factors like renal edema and protein concentration type forming tube blocked renal tubules can induce acute renal failure.
2. Declined immunity
In nephrotic syndrome, since massive immunoglobulin loss from urine, plasma protein decreases, which affects anti-bodies formation. The applications of adrenal cortical hormone, cytotoxic drugs will make your immunity decline. In this condition, patients are prone to get infection, such as skin infection, primary peritonitis, respiratory tract infection, urinary tract infection and even sepsis.
3. Coronary heart disease
The morbidity of NS is in the state of hyperlipidaemia and hypercoagulability of blood, so coronary heart disease occurs. It is researched that the incidence of myocardial infarction is 8 times higher than healthy people. Coronary heart disease has become the third factor which causes the death of nephrotic syndrome.
4. Blood clots
Blood clot is likely to occur in NS. The reasons of blood clot include edema, less activity, hyperlipidaemia, use of adrenal cortical hormone and high content fibrinogen. All these are dangers of NS.
5. Low blood volume and high concentration state
Patients suffer from hyperlipidaemia, proteinuria and hypoproteinemia and thus the body is in a state of low blood volume and high concentration state. Vomiting, diarrhea, antihypertensive drugs and diuretics to increase urine will make the renal blood perfusion amount reduced. Then glomerular filtration rate (GFR) declines, leading to acute kidney failure.
If you have any question, you can leave us a message to kidneycares@hotmail.com or consult our online doctor directly.