Top Three Complications Of Nephrotic Syndrome
2014-08-30 02:46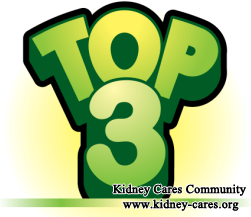 Nephrotic Syndrome (NS) is a common disease in clinical. However, it is chronic and difficult to be cured. If you do not take good prevention, it will bring damages to your heart and body. Nephrotic Syndrome has many complications and we hope they can draw your attention so as to control illness condition. The following will analyze the complications to you.
1. Acute kidney damage
Vomiting, massive medications for high blood pressure and diuretics to increase urine output can all make glomerular filtration rate decreased. And then patients will suffer from acute renal damage. Due to massive proteinuria and hyperlipidaemia, the internal body of patients is in a state of low blood volume.
2. Infection
The application of adrenocortical hormone and cytotoxic drugs will make the patients' immunity decreased, so patients are prone to be infected like skin infection, respiratory tract infection and so on. This will worsen the medical condition, which may cause high creatinine level. Large amounts of immune globulin leak from urine and plasma proteins will decrease obviously, which affects the formation of anti-bodies.
3. Coronary heart disease
The incidence of myocardial infarction in NS patients is much higher than in normal people. Coronary heart disease has become the third leading factor of causing NS patients death. Nephrotic syndrome patients usually have hyperlipidaemia so they are more likely to have coronary heart disease.
As for the treatment of Nephrotic Syndrome, the most common therapy is steroid application. However, steroid is just a temporary solution but a permanent cure. Besides, steroid has many side effects. Therefore, the best therapy for NS is application of Chinese Medicine treatment which can restore kidneys from the root and improve kidney function. We are a specialized kidney disease hospital and our Chinese Medicine therapies have saved many NS patients.