How to Control the Severe Edema with Nephrotic Syndrome
2014-08-03 08:03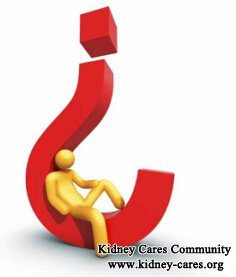 Edema is one of the characters of Nephrotic Syndrome. At the early stage, it may appear just around the eyelid, but with the development of Nephrotic Syndrome, edema becomes severe. How to control the severe edema with Nephrotic Syndrome?
First, we should know what causes edema for Nephrotic Syndrome patients.
For Nephrotic Syndrome patients, edema is associated with massive proteinuria. With the leakage of protein into the urine, plasma colloid osmotic pressure declines, as a result, fluid comes into the tissue space and then edema occurs. Besides, edema may result from kidney function impairment. Without timely and effective treatment, Nephrotic Syndrome can lead to kidney function impairment, and then your kidneys can not remove the excess fluid from body and water and salt retain in the body.
Second, let's suit the remedy to the case.
Severe edema can be treated by diuretics. This medicine can remove the excess fluid from body. Besides, you should control the proteinuria. ACEI and ARB can lower blood pressure so as to lessen the leakage of protein and steroids can decrease the permeability of capillaries and control proteinuria. Immunosuppressants are also often used. According to your medical condition, doctor will prescribe the corresponding medicine for you.
Though these medications can help you control the symptoms, they do not solve the problem from the root. To control proteinuria, you should repair the damaged glomerular basement membrane. Micro-Chinese Medicine Osmotherapy can remove the immune complexes from the basement membrane. It can also activate DNA duplication in the damaged cells so as to speed up their recovery. In addition, this therapy can expand blood vessels, block blood clotting, inhibit kidney inflammation, and stop kidney fibrosis, all of which is good for kidney recovery. When your kidneys regain their ability, edema and proteinuria disappear.
Apart from treatment, you should have a good rest until severe edema fades away. In diet, you should limit the intake of sodium and water. For more information about treatment, please contact online doctor.