Is Headache Associated with Nephrotic Syndrome
2014-06-15 07:09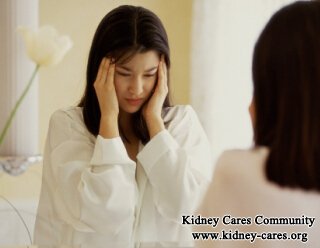 Nephrotic Syndrome patients often complain about headache. Is headache associated with Nephrotic Syndrome? The answer is certain. When your kidneys can not function well, many symptoms occur and headache is just one of them. Now let's learn more information about headache and Nephrotic Syndrome.
Anemia
Nephrotic Syndrome can cause the decline of kidney function so as to affect the secretion of erythropoietin, while erythropoietin is a substance that leads to the formation of red blood cells in the bone marrow. When there are not enough red blood cells to transport oxygen to your head, you will suffer from headache.
High blood pressure
People with Nephrotic Syndrome retain salt and water in the bodies and develop swelling and high blood pressure as a result. High blood pressure is also a contributor to headache.
Poor immune system
Nephrotic Syndrome patients often have a poor immune system, which means they are easily exposed to cold, fever, infection and some other aliments. Cold and fever sometimes can cause headache.
Poor quality sleep
Because the waste and toxin build up in the body due to impaired kidney function, they cause many symptoms, such as insomnia and restless leg syndrome. Poor quality sleep can trigger headaches.
Side effects of medicine
Sometime the long-term use of medication can also lead to headache. Because these medications cause many side effects. Corticosteroids are such kind of medicine. Though they can inhibit the protein leakage from the body, they cause headache, increased appetite, etc.
If you suffer from headache with Nephrotic Syndrome, you should find the root cause of it and then follow the remedy to the case. Do not take the painkillers without the permission of your doctor. In Traditional Chinese Medicines (TCM), many therapies can help your relieve the headache, for example, acupuncture. There are also other therapies to help you improve Nephrotic Syndrome, such as Micro-Chinese Medicines Osmotherapy. If you would like to know more information, please leave a message below or send emails to kidneycares@hotmail.com.