Top Five Complications And Management Of Nephrotic Syndrome
2014-04-08 05:31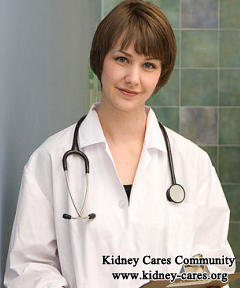 Nephrotic Syndrome(NS) is not a single disease but a sign of many medical conditions. After it occurs, corresponding complications will appear. In this article we mainly talk about top five complications of NS and how to manage them.
1. Inflammation
As massive immune globulins leak from the urine, plasma protein will decrease, which will affect the formation of antibodies. In this case, patients with NS are prone to experience some inflammation such as respiratory tract infectivity, urinary system infection and adrenal cortical hormone and infection of the skin, etc.
2. Blood clot formation
Nephrotic syndrome are more likely to suffer from blood clots. The causes for blood clots include swelling, hyperlipidaemia, less activity, too high fibrous protein, as well as use of adrenocortical hormone and so on. All of these will make blood in a high coagulation state.
3. Coronary heart disease
Due to high blood coagulation and hyperlipidaemia, nephrotic syndrome patients have a high risk for coronary heart disease. It is reported that incidence of myocardial infarction is 8 times than normal people. Coronary heart disease has become the third factor of cause of death in nephrotic syndrome.
4. Acute renal failure
Patients have massive proteinuria, hypoproteinemia and hyperlipidaemia, low blood volume, high blood coagulation, vomiting, diarrhea, use of hypotensives and diuretics, which can make a sudden reduce of glomerular filtration rate and then cause acute kidney failure. Moreover, other factors can also lead to acute renal failure like renal interstitial edema and kidney tubules blocked by protein concentration.
5. Electrolytes and metabolic disorder
A long term use of diuretics or unreasonable salt intake can make NS patients suffer from hyponatremia. Besides, if patients take adrenal cortical hormone and diuretics leading to urinate massive urine, it will lead to hypokalemia without supplement potassium timely.
A general understanding of complications and management of Nephrotic Syndrome is provided for you. If you still have any doubts, please leave your message below or email to kidneycares@hotmail.com. And we will reply you as soon as possible.