Swollen Hands and Feet in Nephrotic Syndrome
2013-03-22 09:53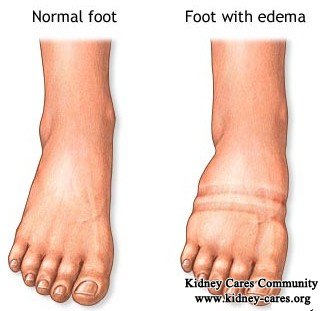 Nephrotic Syndrome is a kidney disease with symptoms like protein in urine, swollen hands and feet, low protein in blood and hyperlipidemia. Among these symptoms, swelling, also can be called edema, is a visible sign and occurrence of it has close relationship with proteinuria.
How is swollen hand and feet caused by Nephrotic Syndrome
Different from many other kidney diseases, Nephrotic Syndrome actually refers to a series of symptoms, which means it can be caused by different kidney disorders. The leading symptom of Nephrotic Syndrome is massive proteinuria, an abnormal illness condition in which excess protein get into urine. Swelling symptom is proportional to proteinuria symptom, so in cases of Nephrotic Syndrome, the more protein in urine, the severer the swelling.
Swelling actually is the water retention. In normal cases, protein exist in our blood and there is balance between inside and outside the blood vessels. However, when large amounts of protein are lost from urine, plasma concentration decreases. To keep a balance, fluids inside the blood vessels ooze into the intercellular space and thus form swelling. Also, when this condition occurs in patient's limb, swollen hands and feet occur.
How to deal with swollen hands and feet in Nephrotic Syndrome?
Since swelling symptom in Nephrotic Syndrome occurs because of great loss of protein in urine. Having an effective treatment about proteinuria is very helpful. When protein stops leaking out, plasma concentration gets improved and also swollen hands and feet are remitted effectively.
Besides, because of decreased kidney function, Nephrotic Syndrome patients need to limit protein intake and salt intake. Impaired kidney can not bear heavy burden and if patients ingest too much protein and salt, kidney burden will be increased and meanwhile further kidney damages are caused easily. Protein is the necessary substance of our body, to avoid high intake of protein and meanwhile meet the physical demand, patients can ingest some high quality protein which can be found in fish and egg white. A well-planed diet is very beneficial for Nephrotic Syndrome patients to deal with swollen hands and feet well.
Swollen hands and feet is common in Nephrotic Syndrome and without effective control, it will become more and more serious and finally led to the swelling in the whole body. Therefore, having a timely and effective treatment is very important.
Leave Message
Leave your problem to us, we are here to help you with free charge!