What Affects The Prognosis Of Nephrotic Syndrome
2015-08-23 08:08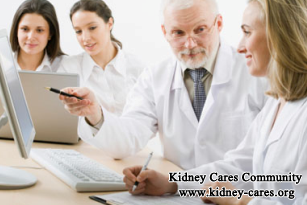 What affects the prognosis of Nephrotic Syndrome (NS)? The complications of NS are important factors which affect the prognosis and should be treated positively.
1. Infection
Once infection occurs, patients should choose sensitive, effective and non-renal toxic antibiotics to eliminate infection quickly.
2. Blood clots and embolism
Generally speaking, when plasma-albumin is below 20g/L, heparin sodium or oral warfarin can be applied for anticoagulation therapy. As for patients with blood clots and embolism, patients should take Urokinase and streptokinase as early as possible. At the same time, patients should avoid drug overdose, otherwise it will cause bleeding.
3. Acute kidney failure
If Nephrotic Syndrome progresses acute kidney failure, it may threaten your life without proper treatment. If proper treatment is given, most patients can get recover.
Loop diuretics
If patients are sensitive to loop diuretics, larger doses can still be given to wash the blocked cast of renal tubule.
Hemodialysis
If diuretics have no effect and patients reach dialysis, hemodialysis should be given to sustain patients' life. Besides, patients should be removed some body fluids after consuming some plasma products so as to alleviate swelling in renal parenchyma.
4. Treatment for primary disease
The pathological type is mostly minimal change disease and should be treated positively.
The above factors all can affect the prognosis of Nephrotic Syndrome. The fundamental way to improve the prognosis is to adopt Micro-Chinese Medicine Osmotherapy. This therapy is developed from traditional Chinese Medicine (TCM). In TCM, all medicines are herbs, which can be used safely. Through expanding blood vessels, preventing inflammation and coagulation, degrading extracellular matrix, it can achieve the goal of repairing kidney damage and improving kidney function from the root. Finally, Nephrotic Syndrome can be treated naturally. And its prognosis will be improved as well.
If you have any unclear about this topic, feel free to leave us a message or send an email to kidneycares@hotmail.com. We are here to help you.
Our Treatment Effect
Swelling is an obvious sign of Nephrotic Syndrome
Move the mouse to enlarge the picture
Look, this patient has severe leg swelling which has made her feel pain and can not get out of the bed. In order to seek better treatment, she came to our hospital for Chinese medicine treatments. 30kg of fluid was removed from her body in less than a month. Her leg swelling disappeared completely. Now you can see her long legs again.
Proteinuria can also be seen in kidney patients
Move the mouse to enlarge the picture
Look, this patient has severe proteinuria when he just came to our hospital. With our Chinese medicine treatments, his condition was better and better. Bubbles in urine gradually reduced and finally disappeared in 10 days of treatment.
New Zealand Patient Second Visit to Our Hospital for TCM
Nephrotic Syndrome Illness Analysis