Do's And Don'ts Of Nephrotic Syndrome In Children
2015-04-10 02:41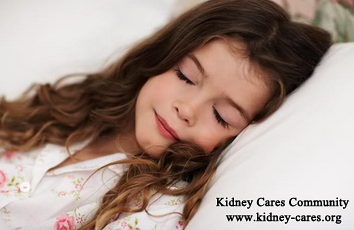 As parents, the most concerned thing is the children get sick. Nephrotic Syndrome (NS) is a common disease among children. Well, what should we do if children get nephrotic syndrome. Here we will tell some precautions for nephrotic syndrome in children.
In sports
Since children take steroids for a long time, their immunity will decline so children are prone to suffer from respiratory infection. Nephrotic syndrome patients should limit their physical activity and they can do some gentle exercise and avoid strenuous activity. This helps avoid tiredness and aggravation of their disease.
In medicines
In the period of stable medical conditions, children need to continue taking medications. Teachers and doctors should check daily medication compliance. Since children often take diuretic medications, they will have increased urine output. This requires their teachers' attention. In class or activity, teachers should remind children timely to go to washroom.
In diet
Because a lot of protein will leak from urine, children will be lack of protein in their body. In this condition, they should consume some protein from diet. The diet for sick children should include enough protein such as fish, lean meat, poultry and bean products. Besides, they should also limit their salt intake. Generally salt intake per day should not be over 2 grams.
Pay attention to children's clothes and sleep
Parents should watch the weather and change clothes for their children. What's more, children should also have a better sleep quality.
The above are some tips for nephrotic syndrome children. If you have any question, you can consult our online doctor or leave a message below. We will reply you as soon as possible.
Our Treatment Effect
Swelling is an obvious sign of Nephrotic Syndrome
Move the mouse to enlarge the picture
Look, this patient has severe leg swelling which has made her feel pain and can not get out of the bed. In order to seek better treatment, she came to our hospital for Chinese medicine treatments. 30kg of fluid was removed from her body in less than a month. Her leg swelling disappeared completely. Now you can see her long legs again.
Proteinuria can also be seen in kidney patients
Move the mouse to enlarge the picture
Look, this patient has severe proteinuria when he just came to our hospital. With our Chinese medicine treatments, his condition was better and better. Bubbles in urine gradually reduced and finally disappeared in 10 days of treatment.
New Zealand Patient Second Visit to Our Hospital for TCM
Nephrotic Syndrome Illness Analysis