Can Nephrotic Syndrome Patients Take Exercise
2015-04-08 03:19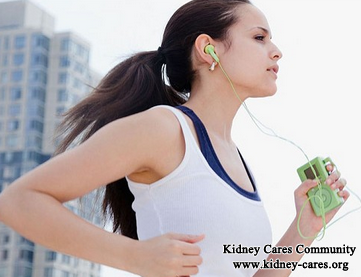 Can nephrotic syndrome patients take exercise? Most kidney patients are told to have a good rest and avoid tiredness so some patients lie on the bed for a long time. However, patients become weaker and weaker. What is the matter?
Actually nephrotic syndrome patients should take proper exercise. Proper exercise contributes to alleviate medical conditions.
As long as patients take proper exercise and avoid strenuous exercise, which is good for their treatment and recovery. If patients lie on bed for a long time, they will become depressed. This is not good for their recovery.
Well, which exercise is good for nephrotic syndrome patients?
Exercise includes aerobic exercise and anaerobic exercise.
Aerobic exercise is able to increase patients' cardiovascular endurance. As for nephrotic syndrome patients, they should take some gentle exercise like walking, jogging, swimming, riding a bike and dance. The characteristics of aerobic exercise are low intensity, rhythmed, no-break and long time.
Anaerobic exercise includes sprint, weight lifting, high jump, tug-of-war and push-up. Patients should choose proper anaerobic exercise according to their own medical conditions.
Nephrotic syndrome patients will have poor appetite and other symptoms, making them weaker and easy to catch cold and suffer from gastrointestinal infection.
If they take proper exercise, it not only enhances the body resistance to disease but also improve patients' appetite. In this way, malnutrition and amyotrophy caused by lack of protein can be alleviated.
Nephrotic syndrome patients should have a good rest. However, they should also take proper exercise on the basis of efficient rest and sleep, which is good for alleviating their condition and enhancing the body resistance to disease. Patients with nephrotic syndrome should take exercise for about 15-45 minutes. It is proper for them to take mild exercise about 3-5 times per week. If you do not make sure which one is suitable for you, you can ask our online doctor or send us a message to kidneycares@hotmail.com. We will give you some suggestion.
Our Treatment Effect
Swelling is an obvious sign of Nephrotic Syndrome
Move the mouse to enlarge the picture
Look, this patient has severe leg swelling which has made her feel pain and can not get out of the bed. In order to seek better treatment, she came to our hospital for Chinese medicine treatments. 30kg of fluid was removed from her body in less than a month. Her leg swelling disappeared completely. Now you can see her long legs again.
Proteinuria can also be seen in kidney patients
Move the mouse to enlarge the picture
Look, this patient has severe proteinuria when he just came to our hospital. With our Chinese medicine treatments, his condition was better and better. Bubbles in urine gradually reduced and finally disappeared in 10 days of treatment.
New Zealand Patient Second Visit to Our Hospital for TCM
Nephrotic Syndrome Illness Analysis