What Is The Nursing Care For Nephrotic Syndrome Patients
2015-02-25 09:29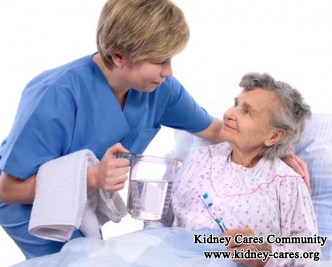 What Is The Nursing Care For Nephrotic Syndrome Patients ? This question is concerned by all NS patients. Kidney disease is the most common disease in nowadays. Patients should not only accept formal treatment but also undergo proper nursing care. The following is Expert Wang Zhanping tells what nephrotic syndrome patients should pay attention to. And we hope it is helpful for you.
1. cleaning and caring
During the time of treatment and recovery, patients need to keep themselves clean, especially for those who lie on bed for a long time. This helps prevent infection, avoid worsening the medical condition or lead to the relapse of your illness disease.
2. proper diet
Once you suffer from Nephrotic syndrome, you should obey kidney diet. That is, you should follow a diet with high calories, high vitamin, high quality but low protein, low sodium and low fat diet. As for patients with massive protein in urine, severe edema and steroid application, they should change their diet according to their own medical conditions.
3. have a rest
People with severe edema should lie on bed and have a good rest. Generally during the treatment, patients can do mild activity. When the disease gets alleviated for 3-6 months, they can do activity as normal but avoid strenuous exercise and tiredness.
4. psychological counseling
People with kidney disease will have changes on emotions and disposition. For example, people will feel upset, irritable and pessimism. On the basis of patients' medical condition, family members and doctors should do psychological counseling on patients to have patients keep a good mood.
Therefore, in order to improve the therapeutic effects of nephrotic syndrome, patients should give more priority to the above tips so as to avoid aggravating medical conditions due to improper nursing care.
Our Treatment Effect
Swelling is an obvious sign of Nephrotic Syndrome
Move the mouse to enlarge the picture
Look, this patient has severe leg swelling which has made her feel pain and can not get out of the bed. In order to seek better treatment, she came to our hospital for Chinese medicine treatments. 30kg of fluid was removed from her body in less than a month. Her leg swelling disappeared completely. Now you can see her long legs again.
Proteinuria can also be seen in kidney patients
Move the mouse to enlarge the picture
Look, this patient has severe proteinuria when he just came to our hospital. With our Chinese medicine treatments, his condition was better and better. Bubbles in urine gradually reduced and finally disappeared in 10 days of treatment.
New Zealand Patient Second Visit to Our Hospital for TCM
Nephrotic Syndrome Illness Analysis