How Do Nephrotic Syndrome Patients Reduce The Side Effects Of Hormonotherapy
2015-01-24 07:59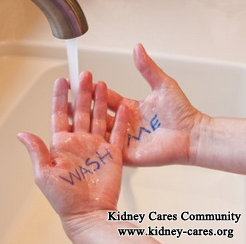 Nephrotic Syndrome is a collection of symptoms that indicate kidney damage and it includes proteinuria, hyperlipidemia, edema and hypoalbuminia. Most children are suffering from this disease. At present, the cause of this disease is not so clear but some experts think that nephrotic syndrome has close relation with allergic reaction. Therefore, adrenocortical hormone is considered as the drug of first choice. However, since treating kidney disease requires a large dosage of hormone and it takes a long time, it is easy to produce many side effects and complications. Well, many patients want to know how to reduce the side effects of hormonotherapy.
Most clinical experiments have proven that if the following aspects are under control, it can reduce the side effects and complications, improve curative effects and decrease the relapsing rate.
1. prevent respiratory tract infection
Upper Respiratory tract infection is a common disease and it is also the main factor of blocking hormonotherapy and kidney disease relapse. Therefore, you should give top priority to prevent upper respiratory infection. Some tips include:
Try to avoid contact with those having upper respiratory tract infection
Avoid cold weather. Some flu occur more commonly in the winter
Avoid crowded places
2. prevent skin and oral infection
Because the usage of hormones will make decline of body resistance and immunity, people with skin injury or unclean oral tend to get infection. Therefore, patients should take shower, wash hands and feet frequently to keep clean skin. When taking a bath, do not scrub too hard to avoid injury on skin. Patients also need to focus on oral hygiene and good oral care, postprandial must be use toothpicks to remove food residue, and ground mouthwash, dental caries and oral reduce secondary infection.
3. prevent excessive fatigue
If patients have stable illness condition, they should speed more time outside, because this contributes to prevent hypercoagulability and osteoporosis. However, do not have excessive activity lest fatigue induces or worsens kidney disease. Most experts recommend that nephrotic Syndrome patients should sleep at least 8 hours and nap time should not be less than 0.5-1 hour. After activity, if patients feel tired, they should lie on bed and have a good rest. In addition, patients should eat less salt, consume proper protein and calories, and eat more fruits and vegetables. Through proper diet, it can enhance patients' strength and energy. This can alleviate fatigue and tiredness effectively.
Nephrotic syndrome is a chronic disease. Although medications are indispensible, good caring is also important. As long as nursing care is proper, it can not only reduce side effects and complications due to long term use of hormones, but also improve the curative rate.
Our Treatment Effect
Swelling is an obvious sign of Nephrotic Syndrome
Move the mouse to enlarge the picture
Look, this patient has severe leg swelling which has made her feel pain and can not get out of the bed. In order to seek better treatment, she came to our hospital for Chinese medicine treatments. 30kg of fluid was removed from her body in less than a month. Her leg swelling disappeared completely. Now you can see her long legs again.
Proteinuria can also be seen in kidney patients
Move the mouse to enlarge the picture
Look, this patient has severe proteinuria when he just came to our hospital. With our Chinese medicine treatments, his condition was better and better. Bubbles in urine gradually reduced and finally disappeared in 10 days of treatment.
New Zealand Patient Second Visit to Our Hospital for TCM
Nephrotic Syndrome Illness Analysis