What Exercises Can Nephrotic Syndrome Patients Take
2014-12-17 07:48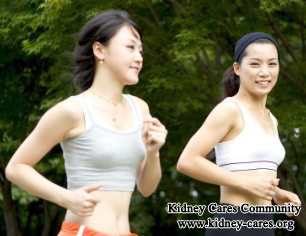 The key to the life is exercise. Exercise can not only fortify our health but also make you optimistic. Moderate exercise is good for our body health because it can increase your resistance to the disease. However, as for Nephrotic Syndrome (NS) patients, not all activities are suitable for them. Good exercise can control their illness condition. On the contrary, improper exercise may aggravate the development of their disease. Well, what exercises are suitable for NS patients?
What exercises are suitable for nephrotic syndrome patients?
We recommend Nephrotic Syndrome patients take lighter, rhythmed and consistent aerobic exercise to keep a steady heartbeat like walking, jogging and riding a bicycle.
Of course, other aerobic exercise include racing, skating and swimming. These are also the suitable exercise for nephritic syndrome patients. But these are easily limited.
As for tai chi, yoga and qi gong, nephritic syndrome can take their own choice according to their hobbies and interests.
As for ball game, it does not suit for NS patients, like badminton, basketball and football. These games are not helpful for stable heartbeat. Besides, nephritic syndrome patients should also not do rope skipping and push-up.
What nephrotic syndrome patients can get from proper exercise?
Itchy skin is a common symptom in nephrotic syndrome. To alleviate itchy skin, patients can take proper exercise apart from dialysis. Sweating after exercise just like skin massage can help excrete toxins and promote blood circulation.
One way to lower blood pressure is persistent and proper exercises which can help patients lose weight and improve the heart functions. Besides, anemia can also get eased through exercise as exercise can increase the function of hemoglobin.
Proper exercises are helpful for nephrotic syndrome, but they should avoid strenuous exercise or over tiredness. If you do not know which exercise you can do, you can consult the online doctor or leave us a message below.