Can Nephrotic Syndrome Lead to Kidney Failure
2014-08-28 09:08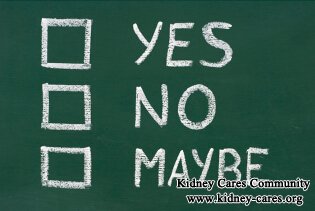 Nephrotic Syndrome may occur at certain stage of your kidney disease. Many patients wonder such a question that whether Nephrotic Syndrome can lead to kidney failure or not. As we all know, kidney failure means you have to dialysis, which is a little boring. Now let's have a general look.
What affects the prognosis of Nephrotic Syndrome?
Minimal changed disease, mesangial proliferative glomerulonephritis, membranous nephropathy, FSGS and mesangial capillaries glomerulonephritis are the common causes of Nephrotic Syndrome.
Generally speaking, minimal changed disease and mild mesangial proliferative glomerulonephritis has a better prognosis. Some MCD patients can even get remission spontaneously, but its recurrence rate is very high. Early stage of Membranous nephropathy can be controlled well with treatment, but when it develops to the end stage, it is difficult to calm the disease down. However, it may take a long time to develop to kidney failure. Mesangial capillaries glomerulonephritis and severe mesangial proliferative glomerulonephritis usually have a bad prognosis and they will quickly progress to chronic renal failure. The main factors that affect the prognosis of Nephrotic Syndrome are the urine protein level and response to treatment.
Massive proteinuria, high blood pressure, and hyperlipemia can all lead to glomeruloslerosis. If you can not control them as early as possible, they will affect the prognosis. Besides, patients with frequent infection or thromboembolism also have bad prognosis.
How to improve prognosis of Nephrotic Syndrome?
Now we have the main factors that affect the prognosis of Nephrotic Syndrome, so we should try to control them.
We should suit the remedy to the case. If you have edema, diuretics are needed. If you have proteinuria, ACEI and ARB are often used. They can lower blood pressure in glomerular and decrease the permeability of glomerular basement membrane so as to decrease protein leakage. Steroids are all often used to inhibit kidney inflammation, decrease the deposition of fibrous protein and reduce the capillary permeability so as to reduce proteinuria. Besides, other immunosuppressants and cytotoxic drug are also very common.
If you want to choose some natural remedies, Micro-Chinese Medicine Osmotherapy is helpful for kidney self-healing. It is anti-inflammation, anti-coagulation, blood vessel dilation and extracellular matrix degradation. Combination of western medicine and Chinese medicine can achieve a better curative effect so as to avoid kidney failure. For more information, you can contact online doctor or leave a message below.