Does Doing Sports Affect Patients with Nephrotic Syndrome
2014-06-26 09:05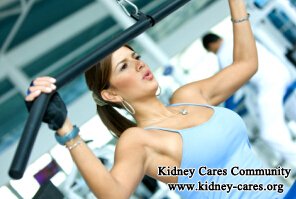 When you are diagnosed with Nephrotic Syndrome, you should attach importance to every aspect of your life. Only in this way can you slow down the progression to kidney failure. Does doing sports affect patients with Nephrotic Syndrome? In the article, some suggestions are given. Hope it can help you.
Some people think that doing sports may worsen the state of illness, for example, doing sports like football and basketball can increase protein spilling and aggravate edema. Besides, strenuous exercise can increase creatinine level. Therefore, you had better avoid sports.
However, this opinion is far from comprehensive. If your state of illness is very serious, you should have a good rest. But if your state of illness is stable, you should add exercise into your routine. After all, the advantages of doing exercise outweighs its disadvantages. Regular exercise improves muscle function, helps control blood pressure, lowers cholesterol and increases quality of sleep. What is more, doing sports can boost immune system so as to reduce the risk of infection and cold, which are the causes of relapse of Nephrotic Syndrome.
If you decide to do some sports, you should take the type of exercise, duration, frequency and intensity into consideration. At the first, you can do some gentle exercise, such as walking, jogging, swimming, yoga, etc. Exercise at least three days a week and work toward 30-minute sessions are OK. Remember to build up gradually to this level. During sports, if you feel very tired, chest pain, leg cramps, dizzy and so on, you should stop sports immediately.
Besides exercise, you should pay attention to your diet, living habit, emotion and treatment. If you have no mind in such things, please contact online doctor or leave a message below. Our doctors are glad to help you.