Is Swimming Allowed For Nephrotic Syndrome Patients
2014-08-07 06:59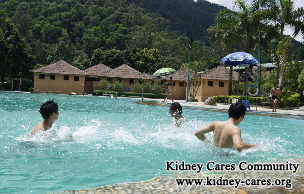 Nephrotic Syndrome (NS) patients often have the doubt that whether swimming is good for them and whether swimming will aggravate their conditions. Of course, these worries are normal. The following will help you alleviate your doubt. Not only NS patients but also other kidney disease patients had better not go swimming.
1. First, swimming belongs to one kind of slightly strenuous exercise. During swimming, it will speed up the metabolism of muscles, which produces more wastes. At this time, kidneys have poor excreting ability, so they cannot expel excessive wastes out of the body. It will workload kidneys and even lead to elevated creatinine level.
2. Swimming pool, especially public swimming pool may have many viruses, which tends to cause inflammation. Once kidney disease patients get infected, severe complications may be induced. Therefore, kidney disease patients had better not go swimming.
3. Nephrotic syndrome patients should prevent cold. However, water temperature in the swimming is lower than the external temperature. Also when you go out from the swimming pool, the water will evaporate. In these cases, patients are more likely to catch a cold. What's worse, relapse of kidney disease can occur easily.
4. Actually swimming and other strenuous exercise will workload your heart. It has no benefits to kidney disease patients.
Therefore, no matter which kidney disease you have, you had better not go swimming and other similarly strenuous exercise. On the contrary, you can choose some gentle exercise like tai chi, walking and yoga. If you do not know which one is suitable for you, you can consult your doctor or our online doctor directly. They will tell you what you can do according to your own medical conditions.