Is It OK For Nephrotic Syndrome To Drink Chocolate Drinks
2017-04-02 07:24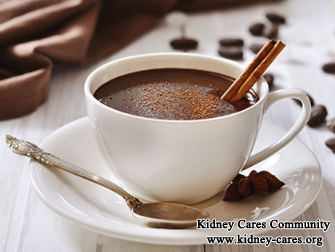 A mother consults our online doctor for his 5 years old son that "Is it ok for him to drink chocolate drinks like soya drinks chocolate flavor?". Diet plays an important role in kidney treatment. Well then, can Nephrotic Syndrome patients drink chocolate drinks?
Phosphorus in chocolate
Calcium and phosphorus help build strong bones. Healthy kidneys can regulate the level of phosphorus in your body by removing extra phosphorus. When your kidneys are damaged, you will have high phosphorus levels in your body. A high phosphorus level increases your risk of bone disease and heart disease. This is the reason why kidney patients should limit phosphorus in diet. If your phosphorus level is high, you need to limit chocolate intake.
Other foods with high phosphorus include milk, pudding, yogurt, soy milk, enriched rice milk, processed cheeses and cheese spreads, ice cream or frozen yogurt, soups made with high phosphorus ingredients like milk, dried peas, beans and lentils, colas and pepper-type sodas, some flavored waters, bottled teas, some drink mixes. You can replace high phosphorus drinks with lemon-lime soda, ginger ale, root beer, plain water or some drink mixes-any without phos in the ingredients.
Aside from paying attention to diet, the key point for nephrotic syndrome treatment is to repairing injured kidney tissues and improve renal function. Only in this way can patients live a high quality life. Here we recommend Toxin-Removing Treatment which is a systematic Chinese medicine therapy including Micro-Chinese Medicine Osmotherapy, Medicated Foot Bath, Medicated Bath, Moxibustion Therapy, Moxibustion Therapy, Steaming Therapy and Enema Therapy, etc. They first cleanse toxins out of your body to provide a clean and health blood environment for recovering renal function. Kidney function can be improved by way of dilating blood vessels, improving blood circulation, preventing inflammation and coagulation, degrading extracellular matrix and providing nutrients. Patients can feel much better with Toxin-Removing Treatment. Symptoms like nausea, vomiting, poor appetite, itchy skin, proteinuria and swelling can disappear naturally.
Chocolate drinks are usually limited by nephrotic syndrome patients. If you want to learn more information, you can leave a message below or consult our online doctor directly.
Our Treatment Effect
Swelling is an obvious sign of Nephrotic Syndrome
Move the mouse to enlarge the picture
Look, this patient has severe leg swelling which has made her feel pain and can not get out of the bed. In order to seek better treatment, she came to our hospital for Chinese medicine treatments. 30kg of fluid was removed from her body in less than a month. Her leg swelling disappeared completely. Now you can see her long legs again.
Proteinuria can also be seen in kidney patients
Move the mouse to enlarge the picture
Look, this patient has severe proteinuria when he just came to our hospital. With our Chinese medicine treatments, his condition was better and better. Bubbles in urine gradually reduced and finally disappeared in 10 days of treatment.
New Zealand Patient Second Visit to Our Hospital for TCM
Nephrotic Syndrome Illness Analysis