Can Nephrotic Syndrome Patients Drink Alcohol
2015-07-24 08:03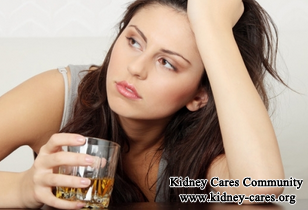 Can Nephrotic Syndrome (NS) patients drink alcohol? In daily life, proper and scientific diet is very important for nephrotic syndrome patients. Does drinking alcohol have some effects on patients?
Renal experts stress that nephrotic syndrome patients should limit or avoid alcohol.
Alcohol and kidney disease
Since diabetes is the leading cause of kidney disease, it is not all that surprising that the question of alcohol and kidney disease is put forward quite frequently. There is a good news that drinking one beer every other month or so, isn't likely to have the profound impact on your kidney health. Drinking in moderation is perfectly acceptable and will not lead to kidney disease.
However, alcohol may worsen kidney condition indirectly on Nephrotic Syndrome patients. Injured kidneys fail to produce enough erythropoietin which is responsible for producing red blood cells. In this condition, patients often experience anemia due to deficient red blood cells. And drinking alcohol may worsen anemia and platelet disorders, which will impair the nutrition status. Alcohol does not damage the kidneys directly, but it will increase the risk for high blood pressure, high blood lipid and swelling, etc. All of these will in turn affect the management and curative effect of nephrotic syndrome. This is the reason why nephrotic syndrome patients are not allowed to drink alcohol. Besides, one of the kidney functions is to keep the right amount of water in your body. Alcohol affects the ability of your kidneys to do this. When alcohol dehydrates the body, the drying effect can affect the normal function of cells and organs, including the kidneys.
Generally speaking, Nephrotic Syndrome patients had better not drink alcohol. Aside from diet, patients also need to take measurement to repair injured kidneys and improve renal function. Only when kidney function is improved patients can live a relatively high quality life.
Our Treatment Effect
Swelling is an obvious sign of Nephrotic Syndrome
Move the mouse to enlarge the picture
Look, this patient has severe leg swelling which has made her feel pain and can not get out of the bed. In order to seek better treatment, she came to our hospital for Chinese medicine treatments. 30kg of fluid was removed from her body in less than a month. Her leg swelling disappeared completely. Now you can see her long legs again.
Proteinuria can also be seen in kidney patients
Move the mouse to enlarge the picture
Look, this patient has severe proteinuria when he just came to our hospital. With our Chinese medicine treatments, his condition was better and better. Bubbles in urine gradually reduced and finally disappeared in 10 days of treatment.
New Zealand Patient Second Visit to Our Hospital for TCM
Nephrotic Syndrome Illness Analysis