Is Watermelon Safe To Eat When One Has Nephrotic Syndrome
2015-06-21 03:07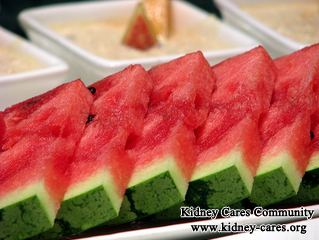 The nephrotic syndrome has a lot of food taboos and watermelon is enjoyed by most of the people around the world. Well, is watermelon safe to eat when one has nephrotic syndrome?
Watermelon has diuretic property, which can help excrete the toxins and reduce the concentration of uric acid. Thus, it reduces the risk of presenting kidney damage and the formation of kidney stones will be reduced.
In nephrotic syndrome, if patients have no serious edema. People can eat watermelon. However, if swelling is obvious, too much watermelon should not be consumed as it can aggravate swelling and increase the workload to the kidneys.
If patients have high blood pressure, they can choose to eat watermelon in moderation. This is because the potassium in watermelon can help reduce the tension of blood vessels and excrete sodium. In this way, high blood pressure can be well managed. Hyperkalemia can lead to sudden death in patients so nephrotic syndrome patients should avoid eating too much watermelon.
Can Nephrotic Syndrome patients eat watermelon? The answer is yes, but the quantity should be restricted.
However, we all know different person has different medical condition so the above diet plan is not suitable for all nephrotic syndrome patients. If you want to get your individual diet plan, please email to kidneycares@hotmail.com and we promise you will get a satisfied answer. In addition to diet, the most important thing for nephrotic syndrome patients is to take medical treatment. Immunotherapy focuses on adjusting abnormal immune system and removing immune complexes which is the root cause of kidney disease. Only in this way can nephrotic syndrome be treated from the root and its relapse be avoided.