Is Mango Allowed In Nephrotic Syndrome
2015-05-26 10:55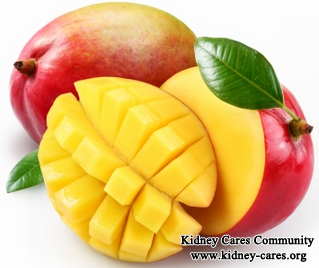 Is mango allowed in Nephrotic Syndrome? The question always asked by Nephrotic Syndrome patients and other kidney disease patients is the diet. Can Nephrotic Syndrome (NS) patients eat mango? Read on to find the answer.
Whether nephrotic syndrome patients can eat mango or not depends on the potassium level. If potassium level is high, mango is not allowed in Nephrotic Syndrome. Potassium level in mango is high. Nephrotic syndrome patients with high potassium level should limit the intake of mango and other high potassium foods. Therefore, kidney disease patients should check electrolyte level which is beneficial for dietary regulation.
If patients have no high potassium level in blood, they can get the following health benefits from eating mango:
1. Helps in diabetes
Mango leaves help normalize insulin levels in the blood. Diabetes is a leading cause of kidney disease. The traditional home remedy involves boiling leaves in water, soaking through the night and then consuming the filtered decoction in the morning. Mango fruit also have a relatively low glycemic index so moderate quantities will not spike your sugar levels.
2. Boosts immune system
Because the kidneys cannot work normally in Nephrotic Syndrome, patients are usually weaker and have lower immunity than the general population. Mango is rich in carotene and vitamin C which both regulate immune system and boost immunity. In addition, vitamin C also helps protect the residual kidney function and increase the rate of kidney filtering wastes.
No matter which condition you have, remember that never eat too much mango. If you have any question, you can leave a message to kidneycares@hotmail.com or consult our online doctor directly. We will reply you as soon as possible.
Our Treatment Effect
Swelling is an obvious sign of Nephrotic Syndrome
Move the mouse to enlarge the picture
Look, this patient has severe leg swelling which has made her feel pain and can not get out of the bed. In order to seek better treatment, she came to our hospital for Chinese medicine treatments. 30kg of fluid was removed from her body in less than a month. Her leg swelling disappeared completely. Now you can see her long legs again.
Proteinuria can also be seen in kidney patients
Move the mouse to enlarge the picture
Look, this patient has severe proteinuria when he just came to our hospital. With our Chinese medicine treatments, his condition was better and better. Bubbles in urine gradually reduced and finally disappeared in 10 days of treatment.
New Zealand Patient Second Visit to Our Hospital for TCM
Nephrotic Syndrome Illness Analysis