Can Fish Be Given To Nephrotic Syndrome Patients Every Day
2015-04-10 07:44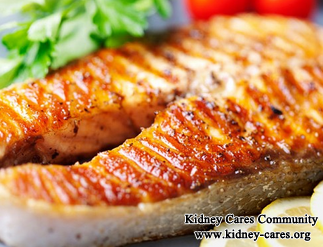 Can we give fish every day to patients suffering from nephrotic syndrome? Lots of protein flow out of patients with nephrotic syndrome, together with urine. This will make insufficient protein in the body day by day. Well then, can nephrotic syndrome patients eat fish every day?
Nephrotic syndrome patients had better take foods with rich protein, especially foods in high quality protein like milk, fish, lean meat and chicken and so on.
However, they can not eat fish every day. Just as the saying goes "Overdone is worse than undone." This is because long-time excessive intake of protein will put more burden on your damaged kidneys, which will worsen your medical condition and cause further kidney damage. How much protein should patients with nephrotic syndrome take every day? For those who have normal renal function, protein intake should be 1kg per kilo of body weight. However, for those who have nitremia, they should limit the intake of protein and 40g protein per day is suitable. Besides, the protein should be high quality like egg white, lean meat, fish and chicken and so on.
What's more, the diet for nephrotic syndrome should get rid of high salt, high phosphorus and potassium foods. High salty foods include processed meat, canned vegetables, pickles, cheese and salty condiments. High potassium can be found in foods like bananas, pumpkin, beans, potatoes, avocados, mushrooms and squash. And high phosphorus can be found in dried fruit, Brazil nut, legumes and milk, etc.
The above is just a general dietary suggestion for nephrotic syndrome. We cannot make sure it is suitable for every patient. If you want to know your individualized diet, you can leave a message below or consult our online doctor directly. We will give you a meal plan according to your own medical conditions.
Our Treatment Effect
Swelling is an obvious sign of Nephrotic Syndrome
Move the mouse to enlarge the picture
Look, this patient has severe leg swelling which has made her feel pain and can not get out of the bed. In order to seek better treatment, she came to our hospital for Chinese medicine treatments. 30kg of fluid was removed from her body in less than a month. Her leg swelling disappeared completely. Now you can see her long legs again.
Proteinuria can also be seen in kidney patients
Move the mouse to enlarge the picture
Look, this patient has severe proteinuria when he just came to our hospital. With our Chinese medicine treatments, his condition was better and better. Bubbles in urine gradually reduced and finally disappeared in 10 days of treatment.
New Zealand Patient Second Visit to Our Hospital for TCM
Nephrotic Syndrome Illness Analysis