Is Bitter Gourd Juice Helpful For Nephrotic Syndrome
2015-03-26 09:57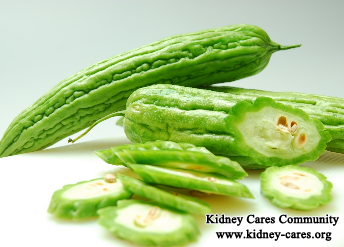 Bitter gourd juice has several potential health benefits and it is available at most health problems. Well, is bitter gourd juice helpful for nephrotic syndrome patients?
Bitter gourd has the following health benefits that contribute to alleviate the symptoms of nephrotic syndrome.
1. bitter gourd for diabetes
Bitter gourd juice benefits to overcome type 2 diabetes. Bitter gourd increases the uptake of blood glucose by the liver, fatty tissues and muscles, stimulating these tissues to convert glucose into glycogen. These changes tend to lower the levels of blood glucose. This helps lessen the demand on your pancreas for insulin, the hormone that lowers blood sugar, and may improve your glucose tolerance. Bitter gourd juice for diabetes is a good idea and it also reduces the risk for kidney disease.
2. bitter gourd for constipation
Constipation is a common symptom of kidney disease. bitter gourd helps in easy digestion as it contains fiber properties. The food is digested and waste is thrown out of the body which helps in curing indigestion and constipation problems.
3. bitter gourd for immune system
Damaged kidneys are easy to affect immune system and kidney disease patients have difficult to fight against infections. Drinking bitter gourd juice helps fight against infections and build immunity as well.
Moreover, bitter gourd juice is also helpful for skin care, cleansing your body, improving eyesight and blood disorder. In summary, although nephrotic syndrome patients can get benefits from bitter gourd, you should discuss its use with your doctor to determine if it might help you since different patients have different medical conditions.
Our Treatment Effect
Swelling is an obvious sign of Nephrotic Syndrome
Move the mouse to enlarge the picture
Look, this patient has severe leg swelling which has made her feel pain and can not get out of the bed. In order to seek better treatment, she came to our hospital for Chinese medicine treatments. 30kg of fluid was removed from her body in less than a month. Her leg swelling disappeared completely. Now you can see her long legs again.
Proteinuria can also be seen in kidney patients
Move the mouse to enlarge the picture
Look, this patient has severe proteinuria when he just came to our hospital. With our Chinese medicine treatments, his condition was better and better. Bubbles in urine gradually reduced and finally disappeared in 10 days of treatment.
New Zealand Patient Second Visit to Our Hospital for TCM
Nephrotic Syndrome Illness Analysis